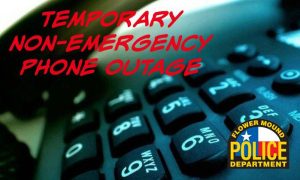 For two hours late Monday night, the Flower Mound Police Department's non-emergency phone number will be down.
From 10 p.m. to midnight, the police non-emergency line, 972-539-0525, will be out of operation for a mandatory telephone system upgrade, according to the department.
The temporary outage will not impact 911 calls. Residents who would want to call the non-emergency line during the outage should call 911, according to the department.