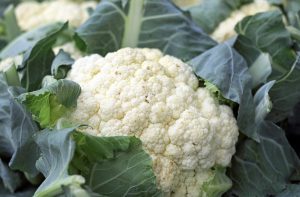 By Valentine's Day, north Texas soil is warm enough to support a nice crop of cauliflower (brassica oleracea botrytis) varieties and its broccoli relatives (brassica oleracea italica).
Don't dally around about planting those six- or nine-packs of seedlings much after February 14 or the window of final success will close.  These two vegetables require a couple of months of cold air and soil to produce their luscious buds for the table, freeze, and pickling jars.
Seedlings show up on store shelves around mid-January.  If you're lucky, a package may contain a dozen or more healthy little plants.  Count stems and get more bang for your buck!
The container should feel heavy with water and plants should be standing at-attention.  Using a knife, loosen and ease the soil-plug from the container; then, if necessary, use a fork to oh-so-gently pull any clumped seedlings apart. Place each in the garden 18-inches apart.
A fully-mature plant will easily fill an imaginary 18x18x18-inch cube.  If grown plants do not reach that size, Mother Nature has just sent you a "garden-gram" to stock the underground fridge with better nutrition next season.
In February, black crickets keep a weather-eye wide-open for tender greens on good-looking stems. So, the first few weeks after planting outside, it may be necessary to dust insecticide on your babies to save them from the little Huns.  Minimize dusting by hand, watering only the ground under each plant.  Some of the darlings may get chewed, but they often recover, if nourished and defended with a little TLC.
After the youngsters look settled, add six-inches of leaf mulch, outside a four-inch ring of open space around each stem, so you can water with ease.  Grass cuttings form impervious mats that must be pulled back when you wish to soak the plant roots.  Keep in mind that mature cauliflower root-masses are about one-fifth the size of the upper plant.
Some maturing plants may bend under their own weight, but the stems immediately reach for the sky, and still look tall and straight.
After about six-weeks, the plants make a small head of buds at the tip of their main stem.  When this immature cauliflower appears, tie the plant's longest leaves up and around it with string, to keep light from turning the produce green.  In warm weather, the head will take a couple more weeks to reach peak size; about eight-inches across.  No genuine flowers should be allowed to develop.
Just gaze with admiration, while you water and feed the growing broccoli flower.  Again, don't let it produce genuine flowers.  Broccoli side-stems will continue to produce small heads for a long time after harvesting the big floret.
Toss spent plants in the compost heap.
Seedlings reappear at nurseries in August.  A late-crop will keep you in fresh produce until the first Arctic front barrels down the side of the Rockies sometime around Christmas.  All bets are off if the freeze arrives early.
Spaniards cut cauliflowers apart, steam the florets, slice them, then sauté in garlic butter with salt, pepper and parsley to taste.  Yum-yum, wickedly good!  Tender big leaves steam up nicely, and make a good wilted "mustard greens" vegetable dish.