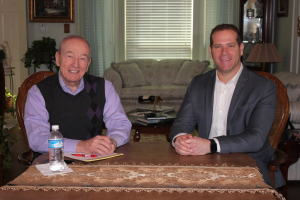 With the recent announcement by Mannatech Inc., an international network marketing, nutritional healthcare and personal care product company, that they will be moving their global headquarters to Flower Mound, I thought it might be a good idea to interview one of its leaders. Flower Mound resident Landen Fredrick is the Chief Global Sales Officer and North American President for Mannatech, and he came over to answer some questions about the company's success and the reasons for relocating from Coppell to our town. The company has leased 53,000 square feet in the Lakeside Business District, which was heretofore occupied by Stryker Corporation, a supplier of medical and surgical equipment. According to Flower Mound's economic development team Mannatech will generate sales tax of about $180,000 annually. The following info comes from the company's website: www.mannatech.com
"Saying nothing has changed since we were founded in 1994 would be a lie. While we do still create some of the best real-food supplements on the market, the science we pioneered has grown and the number of people who have experienced a transformation through our products has soared. The testimony alone of those who have earned the freedom of an additional income source with our life-changing opportunity continues to reinforce the power of our products. When you make something this good, people take notice.
"Over the past 20 years, we've expanded our reach to over 25 countries globally. We've earned over 100 global patents for our technology. We've added products to meet new demands. We've faced scrutiny from naysayers, and have overcome. In short, we've thrived.
"Yet, some things haven't changed. We still boast an uncompromising promise to quality. We still offer one of the best compensation plans in the industry. And, most importantly, we still desire to do the right thing. That passion can be seen in our partnership with the Mission 5 Million (M5M) Foundation, whose goal is to see 5 million children in need given proper nutrition with our real-food products. For each purchase made, Mannatech makes a donation to the M5M Foundation to help provide vital nutrients to malnourished children across the world.
"We like to think of ourselves as a 22-year-old startup company: fresh, innovative and energetic, but with the wisdom that comes through the experiences of an established and successful business. Come join our startup and become part of the transformation. We can't wait to write you into our story.
"From 2009 through 2017, Mannatech's programs have generated over 122 million servings of nutritional support for malnourished children. According to the World Health Organization and UNICEF, roughly 100 million children in developing countries are underweight and over 150 million are malnourished. Under-nutrition can hinder brain development, reduce intellectual capacity and stunt growth. Malnutrition impacts the lives of 55 million children at any given moment."
Bob Weir is a former NYPD officer, long-time Flower Mound resident and former local newspaper editor.