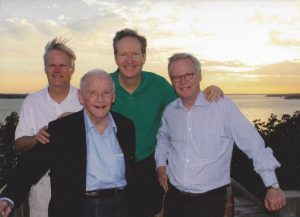 Peter Pauls Stewart, 97, passed peacefully at his longtime home in Dallas surrounded by his family and friends on January 10. He joins in heaven his beloved wife Betty May Exall Stewart (who died in 2009), his brother Waldo Ewing Stewart (2003), step-brother Homer "Pete" Lewis, his mother Myrtle Marie Pauls Stewart (1923), and his father Harry Ewing Stewart (1961).
Some knew Peter best as the force behind The Thanks-Giving Foundation and Thanks-Giving Square in downtown Dallas. Others knew him from his business interests in distribution, auto transport, and real estate (including the 160 acres overlooking Lake Grapevine in Flower Mound, now the site of the mixed-use community Lakeside DFW).
Born in Kansas City, MO, in May 1920, Peter lost his mother weeks prior to his third birthday. He and older brother Waldo, born in 1915, went to live with their paternal grandparents, William Patterson and Jessie Ewing Stewart, while their father Harry pursued burgeoning business interests in Houston and then Dallas. Their grandfather's interest in Eastern religions expanded the boys' horizons, and they excelled in school. Both attended Culver Military Academy and both fulfilled their grandfather's fondest aspiration that they graduate from Harvard University.
During summers, Peter and Waldo would come to stay with their father, who had moved to Dallas in the late thirties. Harry Stewart purchased the Stoneleigh Hotel and remodeled the top two floors into his penthouse residence. One summer while still in high school, Peter met Betty May Exall. He courted her over three years, ignoring her other suitors, even transferring from Harvard to the University of Texas for his sophomore year to show his devotion. They were married on July 18, 1942, in the Exall family home at 4808 Lakeside Drive in Highland Park.
Peter served in the US Army in Europe as a transportation officer. For several weeks at the end of World War II, he commanded the first trains (including supplies and refugees) to enter Berlin through the newly-created Soviet zone. He concluded his service as a captain late in 1945. For several years in the forties, he moved his young family of four to Mexico City to head up the Mexican operations of his father's company. Returning to Dallas in 1949, business and family life would occupy much of Peter's time through the fifties. His business interests included The Stewart Company (exclusive wholesale distributor of Ford tractors and appliances from Zenith, Amana, and KitchenAid), Auto Convoy (Ford auto transport), and his ultimate love, real estate investing.
In 1954, The Stewart Company located its offices and warehouse on Royal Lane along the newly constructed Central Expressway. Influenced by the murals of Mexico City, brothers Waldo and Peter sought out Mexican artist Miguel Covarrubias to create a 12′ x 57′ mural to distinguish their building. When the Stewart family sold the site in the early nineties, the glass-tile mosaic, entitled Genesis, The Gift of Life, was donated to the Dallas Museum of Art, where it now sits at the museum's entrance. Peter joined the Young Presidents' Organization (YPO) in the late fifties, blessing him with many special friends (including Sir John Templeton, who Peter learned later shared his passion for gratitude).
As a member of the Dallas Plan Commission in the early sixties, Peter grew increasingly interested in discussions about downtown parks. And as an early member of Mayor Erik Johnson's Goals for Dallas, he grew to believe that parks could play an important role as the city sought to create a more sophisticated city center. On a fishing trip to Arkansas in 1962, an unusual idea for a downtown park came to him a park dedicated to gratitude and thanksgiving. Ideas for this "thanksgiving park" came so quickly that he always carried note cards and felt-tip pens in his breast pocket to record them. In 1964 he recruited Joe Neuhoff, Julius Schepps, and John Stemmons to join with him to found the Thanks-Giving Foundation. The foundation purchased a triangular-shaped site at the center of downtown in 1968. New York architect Philip Johnson was selected to design the chapel and square, which was dedicated on Thanksgiving Day, 1976. Peter collaborated closely with the architect as well as with the artists and artisans who designed the bells, the chapel's unique stained glass, and the etched glass atop the chapel entrance. President Gerald Ford visited Thanks-Giving Square and called it a "major national shrine."
Meanwhile, Dallas was booming and Peter pursued interests in real estate with help from his talented brother-in-law Henry Exall, who was chairman of the North Dallas Chamber's streets and highway committee. Teaming with planner Marvin Springer, engineer Roy Wilshire, and broker Gifford Touchstone, he influenced road work to unlock the potential of properties. The projects included championing the first stretch of Dallas Parkway north of LBJ, extending Royal Lane from Central to Greenville, gaining northbound tollway access for Plano Parkway, and realigning FM 2499 north of DFW Airport.
A dove hunt in 1973 led Peter to his dearest real estate investment on lakefront acreage just northwest of the Grapevine Lake dam in Flower Mound, then a town of about 2,000. He began assembling acreage that same year, believing the site overlooking the lake just three miles north of the airport to have a "world potential." By the time the final piece was purchased in 1985 bringing his total to 160 acres Peter began to think a high-rise building might one day overlook the lake. Few shared his vision (and few thought he was crazy); the population in the area remained sparse.
When a flood in 1981 overwhelmed the spillway and dam road, Peter began to generate interest from governing agencies and landowners in a new route proposed to him by Roy Wilshire and Marvin Springer. He promoted the idea of a thoroughfare stretching one day from DFW Airport to Denton between I-35 W and I-35 E. The key to the success of FM 2499, he believed, depended on its connection with SH 121. Peter worked persistently his calling card to persuade highway authorities that a two-lane flyover was required for this brand new road. While single-lane flyovers connected far larger, more important thoroughfares (e.g., LBJ to Central, Tollway to I-35), Peter's trademark persistence wore the authorities down. The two-lane flyover was completed, along with the first segment of FM 2499 (including a lengthy six-lane stretch), in 1994. The new road helped fuel a building boom that saw Flower Mound explode from 15,527 residents in 1990 to over 50,000 by 2000. Today FM 2499 carries over 60,000 cars per day, a total likely to increase with the final connection to I-35 E just south of Denton.
The eighties saw Peter continue his efforts to spread the thanksgiving message through local, state, national, and international research, seminars and outreach. He collaborated closely with Ambassador Anne Armstrong whose relationship with President Ronald Reagan helped promote several initiatives, including the revival of the National Day of Prayer, which Congress confirmed in 1988. The Foundation has continued the tradition ever since in Dallas by celebrating prayer and gratitude in all faiths on the first Thursday in May. Thanks-Giving Square's Interfaith Council, which brings representatives from 26 faith denominations together 10 times a year, plays a leading role in the National Day of Prayer, the Festival of Faiths, and discussions of interfaith issues.
In 1985, Peter saw an opportunity in Norman Rockwell's 1961 painting entitled Golden Rule that was inspired by the humanitarian efforts of the United Nations. Rockwell had said he saw the Golden Rule as the common denominator in all world religions. So Peter led an effort to create a mosaic of the work to celebrate the 40th anniversary of the United Nations. Nancy Reagan presented the gift to the United Nations on behalf of the United States (private gifts to the UN are prohibited). In the nineties, a twin mosaic was created for Thanks-Giving Square. The 45′ x 40′ mosaic at the U.N. was restored and, in a rare gesture, rededicated in 2014. Peter and a Dallas contingent were honored guests at the ceremony. The work hangs prominently at one end of the third floor of the Conference Building in the UN Headquarters complex. The then-deputy secretary general of the UN called it "iconic" and noted that it is the most visited art piece in the UN. He also remarked that the mosaic represents what "we hope to be."
Meanwhile, Peter sought out the best minds for their perspectives on gratitude. Visitors to Thanks-Giving Square included the Dalai Lama, Francis Cardinal Arinze, the Archbishop of Canterbury, George Carey, plus eminent Jewish scholars and Islamic leaders. In recognition of his work on behalf of world thanksgiving, Pope John Paul II invited Peter to attend the historic 1986 interfaith summit in Assisi, Italy. Working with Assistant Secretary-General Robert Muller, Ambassador Anwarul Chowdhury of Bangladesh, and President Carlos Menem of Argentina, Peter played a crucial role in the UN's adopting the year 2000 as the "Year of World Thanksgiving." In 2012, Peter and the Thanks-Giving Foundation received the Spirit of the United Nations Award for Youth Outreach.
In 2017, construction began in Flower Mound on The Lakeside Tower, a 15-story condominium building overlooking Grapevine Lake. It is scheduled for completion in September.
Our family thanks Tatiana Androsov, who worked with Peter until his dying day to keep him inspired and connected to his network, Kathy Kurtin Stewart for her wise financial stewardship over many years, and our brother, Alan Stewart, who adroitly handled Peter's medical care in his last few weeks. During his final years, Peter was gently and lovingly attended to by Maria (Lupe) Galvez, Audelia Villa, Gloria Martinez, Rosalba Vazquez, Gloria Venavides, and Maria Amaro. These dedicated women showered Peter with affectionate care; we are eternally grateful.
Peter is survived by his five children: Elizabeth S. Wally, Peter B. Stewart (Jacqueline), Alan G. Stewart (Kathy), Cathy S. Moore (Jess), and David E. Stewart (Katherine); 14 grandchildren: Jody Wally (Anjie), Catherine LaBelle, Nicole Schlesinger (Anton), Colin Stewart (Monica), John Stewart (Miriam), Sasha Stewart (Nate), Zachary Stewart, Vanessa Stewart (Karthik), Michelle Branch, Randi Hart (Darin), Beth Songer (Matt), Daniel Stewart, Sarah Stewart, and Ian Stewart; 14 great-grandchildren: Joseph Wally V, Alexandra Wally, Isabella LaBelle, Serena Schlesinger, Ava Karthik, Tara Karthik, Bryce Branch, Abbie Branch, Blake Rogers, Lauren Haussong (Brett), Luke Spoor, Cate Songer, Madi Songer, and Ben Songer; and one great-great-grandchild: Hayden Branch.
A visitation will be held from 6 to 8 p.m. on Monday, January 15, at Sparkman/Hillcrest Funeral Home, 7405 W. Northwest Highway, Dallas. Funeral services will take place at 11 a.m. on Tuesday, January 16, at St. Michael and All Angels Episcopal Church, , 8011 Douglas Ave., Dallas, where Peter was a member since 1953. Donations may be made to the charity of your choice or to The Thanks-Giving Foundation.