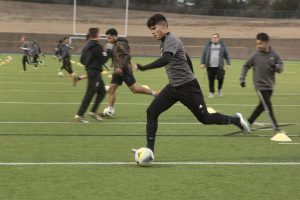 Soccer season is about to get underway for the boys of southern Denton County and local fans have a lot to be excited about in 2017-18.
Just like the girls, Marcus and Argyle both qualified for the postseason last year and both had excellent regular season showings. With teams preparing for what promises to be another strong season, local coaches are excited about their teams' prospects.
After winning a District 5-4A Championship last season, the Argyle boys advanced to the regional semifinals, before coming up a little short against San Elizario High School.
The Eagles finished up the regular season with a 15-4-5 overall record and Coach Ben Parks said his team is ready to pick up where it left off in 2016-17.
"We are thrilled for the beginning of a new season," Parks said. "With a new season comes new opportunities and new challenges and we are looking forward to meeting each and every one of those with effort and determination."
Parks said he has a couple of players he expects will lead the way for the Eagles this season, but added that will take a total team effort to repeat upon the success they enjoyed last year.
"We have a few seniors on the team this year, as well as a few other returners who contributed heavily last year," Parks said. "Travis Garner will be a 4-year starter. Grant Shaw along with Isaac Aguilar and Connor Banar will be a few others the team will look to lead through the season."
Parks said he anticipates every district opponent will present challenges for his team.
Over in Flower Mound, the Marcus boys team finished second in district in 2016-17 with a 14-6-1 overall record. Coach Chad Rakestraw said he is excited about the possibilities in his first year at the helm for the Marauders.
"Things are shaping up well," Rakestraw said. "We are fortunate to have a great tradition of excellence that we are looking to build on. Anytime you change leadership within a program there are adjustments that players have to make when it comes to playing style; and, the principles that coach emphasizes. Our guys have responded really well and we are excited to start playing games to see where we are; and, show everyone what Marcus Soccer will be about."
Rakestraw said he expects a number of players to step up for the Marauders this season.
Returning all-district selections Sam Coad (5-6A Newcomer of the Year), Dalton Lloyd, Matt Heffernan and Austin Wills will be a few of those players.
"We need every player locked-in, ready to battle every night," Rakestraw said. "We have a lot to prove to the district and the state. Our group will remain locked-in and committed to what we're doing, no matter what we encounter."
Rakestraw said he anticipates Hebron, Lewisville and Southlake Carroll to be his team's most difficult district opponents this season.
Across town at Flower Mound High School, Coach David Doyle's team finished last season with a 7-7-5 mark, missing the postseason last year.
Doyle said that result is something his team definitely wishes to rectify in 2017-18.
"We are looking forward to the season and have been working hard to get back to the playoffs this coming year," Doyle said.
The Flower Mound coach said his team is led by a "good senior group," including Ben Pretzer, Dylan Becerra, Scotland Crook and Nick Tudgay this season. Doyle said to be successful, it will take a strong effort from one of his younger players in particular.
"We have a freshman goal keeper [Landon Leach]," Doyle said. "He needs to play well for us to do well."
Doyle anticipates Hebron, Trinity, Southlake Carroll and Marcus as being Flower Mound's most difficult district opponents.
For the Guyer boys soccer team, 2016-17 was a rough year. Coach Cody Schroeder said his team needs to get back to the fundamentals to rebound.
"Last season proved to be full of difficult opponents and the same holds true in 2018," Schroeder said. "Consistency in training and creating a basis from which to build on will provide the opportunity to compete. If you can compete throughout the game, you give yourself a fighting chance to win games. Elimination of mistakes in the defending third is paramount and capitalizing on attacking chances is essential."
Guyer finished 1-18-1 last season, but Schroeder said that early indications look pretty good for a competitive season in 2017-18.
"The Guyer boys team is training with good effort, enthusiasm, energy and effort, on a pretty consistent basis through the first 13 days of in-season training," Schroeder said. "Having such a difficult season in 2017 creates many challenges and obstacles, but the team is working to meet the expectations."
Schroeder said he is looking to a trio of players to lead Guyer this season.
"Alexis Diaz, Saul Campuzano, and Jaron Petreas will be counted on extensively to establish a foundation of good work ethic and soccer ability to lead the 2018 Wildcats," Schroeder said.
Girls Ready to Roll

Southern Denton County has traditionally been a hotbed of girls' soccer talent; and, the 2017-18 season should be no different.
Flower Mound Marcus and Argyle both made the postseason last year and advanced multiple rounds in the playoffs; and, every school in the region has a legitimate shot at earning a playoff berth this season.
The Marcus Lady Marauders finished second in District 5-6A last season– with an overall record of 16-3-2– and reached the regional semifinals before losing to Keller.
Coach Chad Hobbs said he is very confident heading into the 2017-18 campaign, if his team can avoid a major issue that affected the Lady Marauders state championship aspirations last season.
"Our team looks very strong this year," Hobbs said. "We are returning eight starters from last year's team. If we can stay healthy, we should have a very successful season. Last year we were decimated by season-ending injuries to several key players."
Some of the players he expects to lead the way for Marcus this year include: Taylor Moon (District 5-6A MVP, first team All-District, TASCO first team, All-Region, 29-goals, 13-assists); Kaity Hemperly (first Team All-District, seven-goals, seven-assists); and, Maddie Algya (District 5-6A Utility Player of the Year, second team All-State, first team All-District, 12-goals, 28-assists).
Hobbs said he anticipates Southlake Carroll and Hebron as being his teams' most difficult district opponents this coming season.
For the Argyle girls soccer team, a trip to the area round of the playoffs in 2016-17 capped off a 16-3-4 overall record and second place finish in District 5-4A.
Coach Marc Koke said, while his team did lose some strong offensive talent, he is optimistic about his team's chances this season.
"Things are going well," Koke said. "We will be very young this year. We graduated a talented senior class. The majority of our starters will be freshman and sophomores. For us to be successful we will have to replace 90-percent of our offense that graduated; will need the young and new players to mesh well."
Key players returning this season for the Lady Eagles include: Ti Krumme (District 5-4A Co-Defensive MVP); Sophie Young (move-in from Sulphur Springs, who had 14-goals for their varsity program last year as a freshman); Riley Webster (second team All-District); Cortlynn Boone (second team All-District); Kiernyn Lund (move-in from Keller Timber Creek); and, Madison Saldivar (second team All-District).
Koke said he anticipates Argyle's most difficult district opponents to be Melissa and Celina.
The Flower Mound girls soccer team just missed the postseason in 2016-17, but finished 17-3-6 on the year, including a 7-3-6 mark in district competition.
Coach Misail Tsapos said he feels like his team is in pretty good shape heading into the season, but added that there is nothing like actual competition to show him where they really stand.
"It will be a young team, but we return six starters from last year's team," Tsapos said. "I can say we are working hard, but ,until we play regular matches, we are not sure how we look."
Tsapos said he expects Kendal James, Dawson Depperschidt, Rachel Mann and Elena Reyna to be among the team leaders for the Lady Jaguars this season. He said the keys to success this season are to remain healthy and to avoid mistakes.
"We probably have one of the most difficult non-district schedules in the area," Tsapos said. "I feel every match will be a challenge for us. We'll need to stay injury-free and be very disciplined."
For the Guyer girls soccer team, 2017-18 season could be an opportunity to rebound from a 4-11-5 record last year. First year coach Amanda Hall said she is feeling good about the way that her players are adjusting so far.
"It has been a restructuring offseason with the new coach and adjusting the culture and direction of the program," said Hall. "The girls have responded well and, as a result, are playing solid soccer. We are looking to compete well in our district and have seen significant improvement to an already talented group since August."
Hall said she has a number of players she expects to step-up this season and said the Lady Wildcats will need strong leadership to make a run at a postseason berth.
"Cat Klein will lead our defense," Hall said. "She is a natural leader, team elected captain and a consistent force in our defense. Offensively, I expect to see a lot of goals out of Allie Lyons (two-goals, one-assist in 2017) and Amber Lyons (four-goals, two-assists in 2017).
"Lauren Avila (three-goals, one-assist) will contribute significantly to our offense and I would expect assists and goals out of her," said Hall.