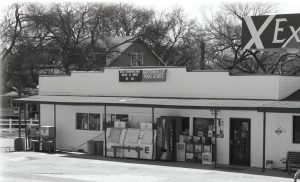 A local resident is working on a plan to restore the old Bartonville Store and turn it into an eatery.
The original store, located in the northwest corner of McMakin and Jeter roads (on the west side of the Kroger shopping center) was built in the 1880s at the time the community of Bartonville was founded.
The store, which traded hands several times, burned down around 1944 and was rebuilt, and it remained in operation until February 2013, when it shut down. The town bought the property, and earlier this year, it accepted a bid by Double Oak resident Tim House, who said he misses the old store.
"It's the reason there is a Bartonville," House said. "I live less than a mile from the store, and I used to hang out there quite a bit, enjoying a sandwich and sharing in the local conversation."
The property is still pending sale, said Mayor Bill Scherer, based on further due diligence against a conditional use permit by House.
House, who is semi-retired from work in real estate development, recently submitted the CUP request to restore the old building into a restaurant, but he doesn't yet have an agreement with a restaurant operator.
"There's no definite deal done yet," House said, "but I'm working with a high-end deli/eatery which would feature select meats and artisan complements."
House's request went to Town Council last week, but it was denied because "members of the council wanted additional information from the buyer prior to approving the CUP," Scherer said.
"The Council was looking for more specific information than I could provide at that time, and I understand their concern for wanting to portect surrounding property owners," House said. "Hopefully, with some additional time to get more specifics, we might find a resolution that works for all.
"I think it is important to the community that the old store be brought back, and I would like to be a part of that."