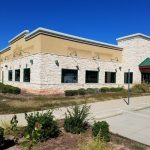 New Restaurant Coming
The former Applebee's on FM 407 in Highland Village will reopen in late February 2018 as Hillside Grill, serving seafood and steak in a family-friendly environment with a full bar and new enclosed patio addition.
The restaurant will be open for lunch and dinner and employ approximately 80 people.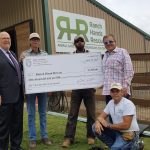 Foundation Awards Grant
The MDRT foundation awarded a $1,000 grant to Argyle-based Ranch Hands Rescue for the construction of an office/counseling building.
This year the foundation will award over $1 million in MDRT member endorsed grants to more than 200 charitable organizations worldwide.
Representing the MDRT Foundation was Mark R. Finley, CLU, LUTCF of Lantana.
Ranch Hands Rescue is an animal sanctuary and mental health counseling facility in Argyle that specializes in treating people, mostly children, suffering from traumatic Life Experiences.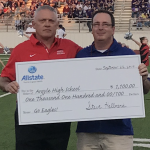 Hallmark Boosts Eagles
Steve Hallmark, owner of the Steve Hallmark Allstate Agency in Argyle and proud supporter of Argyle High School, presented Coach Todd Rodgers (pictured left) a check to benefit the athletics department prior to the September 22 football game versus Abilene Wylie.
The Steve Hallmark Allstate Agency is located at 306 US Hwy 377, Ste C., in the Settler's Center next to PointBank.
Financial Advisor Recognized
Trenton B. Owens, Assistant Vice President, Financial Advisor at Merrill Lynch Wealth Management/Price, Dilworth & Associates in Southlake, was named to the inaugural Forbes/SHOOK "America's Top Next-Generation Wealth Advisors" List for 2017.
The new Forbes listing is a select group of individuals who were born in 1980 or later and are viewed as leaders in their field.
Merrill Lynch holds the No. 1 position with 119 advisors recognized on the published list.