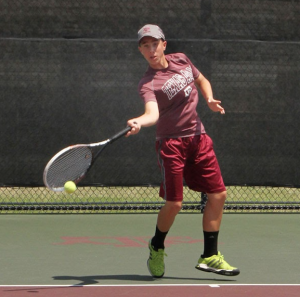 A Flower Mound teenager is preparing for a tennis tournament fundraiser next week that will benefit Baylor Scott & White Health hospitals.
It's his way of thanking them for saving his life 16 years ago.
Cale Balusek was born at the Baylor hospital in Grapevine 10 weeks before the due date, weighing 2.5 pounds, and the premature baby had several health issues. He had two holes in his heart, his thyroid didn't work, he developed chronic lung disease and needed the hospital's help to eat and get enough oxygen in his blood.
After about two months in the Baylor Scott & White Health hospitals in Grapevine, Garland and Irving, Cale's parents, Steve and Tonya, were able to bring him home.
Steve said the holes in Cale's heart healed, his thyroid issue went away when he was about 3, and Cale said his asthma has gotten better.
Cale, a 16-year-old sophomore at Flower Mound High School, has grown into a healthy, athletic teenager. You can usually find him on the tennis court.
"I'm still in shock that, knowing my background, I'm able to play varsity sports," Cale said.
Recently, Cale began thinking about ways he could give back to the community, and wanted to do something that related to him.
"I first thought about how I was born, how the doctors and nurses saved my life," he said. "I want to pay them back through a tennis tournament."
Cale organized a tennis tournament, called "Love Babies," for Nov. 17, which is World Prematurity Day, to raise money for Baylor Scott & White Health hospitals.

The Love Babies tournament is for women's doubles at the 3.0, 3.5 and 4.0 levels. Warmup and registration begins at 8:30 a.m. and the tournament starts at 9. The registration deadline is Friday, Nov. 10. Click here for more information about the tournament.
The tournament received more players than the Baluseks were expecting, so it will be held at two different locations in Coppell: Wagon Wheel Tennis Center and Coppell High School.
There will also be a silent auction at the tournament.
Cale spoke at the Flower Mound Town Council meeting on Monday, encouraging the town to bring a tennis center to the town because he wants to run the tournament in 2018 and 2019, at least, and he'd prefer to be able to hold it in Flower Mound instead of somewhere else.