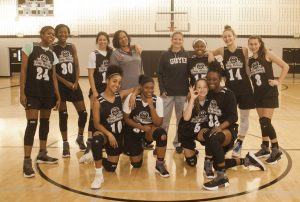 The girls of southern Denton County are gearing-up for another year on the basketball court. If last season is any indication of how things will unfold in 2018, it should be an exciting year.
Local fans were treated to three playoff berths in 2016-17, including the state champion Argyle Lady Eagles; and, a number of strong players are back this year.
Below is a look at the prognoses for the 2017-2018 seasons for each of the regional schools.
Argyle High School
Head Coach: Chance Westmoreland (First Season)
Last Year's Record: 37-2
Place in District: First
Playoffs: State Champions
Returning Starters: Guard Brooklyn Carl, Gabby Standifer
Players to Watch: Gabby Standifer (Sr.), Brooklyn Carl (So.), Morgan Yarbrough(Sr.), Leighton Eschle (Sr.), Rhyle McKinney (So.) and Sydney Standifer (Fr.).
Analysis: The Lady Eagles hammered their way to a third straight state championship in 2017; and, fifth time in school history. That, of course, was under the tutelage of legendary coach Skip Townsend, but first year Argyle coach Chance Westmoreland brings with him quite the pedigree, as well.
Westmoreland led 3A division Brock High School to state championship victories in 2012 and 2013 and said he believes the Lady Eagles can pick up where they left off in 2017.
"I think we will be in playoff contention, because we have a very good nucleus of returning varsity players, led by Gabby Standifer and players– who will be new to varsity– but are very talented," Westmoreland said. "The girls know what it takes to be successful and have put in the work over the summer and off-season to have a very competitive team."
Prognosis: Argyle will once again rival for a state championship. Playoffs are a foregone conclusion; and, with the leadership of Gabby Standifer (Fresno State) and last year's District Newcomer of the Year, Brooklyn Carl, the Lady Eagles will be a serious force in the 4A division as always.
Flower Mound High School
Head Coach: Sherika Nelson (11th Season)
Last Year's Record: 19-13
Place in District: Three-way tie for second place
Playoffs: Bi-District round
Returning Starters: Guard Anna Jackson and Forwards Whitney Cox and Melissa Johnstone
Players to Watch: Anna Jackson (Sr.), Whitney Cox (Jr.) and Melissa Johnstone (Sr.).
Analysis: Anna Jackson was a first-team all-district selection in 2016-17, while Melissa Johnstone and Whitney Cox were both named to the second team. With most of their squad intact from a season in which the Lady Jags went 10-4 in district competition, things are looking promising for Sherika Nelson's team in 2017-18.
"The experience of our returners coming back and knowing the work ethic it takes daily to make it in the playoffs is going to help us," Nelson said.
Prognosis: Flower Mound will not only claim one of the top four spots in district this season, but look for the Lady Jaguars to rival for a 5-6A District championship.
Guyer High School
Head Coach: Aimee Kilgore (Fourth Season)
Last Year's Record: 18-13
Place in District: Fifth
Playoffs: None
Returning Starters: Guards A'Lexiss Benton and Katherine Silvaggio
Players to Watch: A'Lexiss Benton (Sr.), Katherine Silvaggio (Sr.), Abbi Williamson (Sr.), Callie Boyles (Jr.), Jade Thompson (So.), Eni Akinniyi (Sr.) and Charlotte Pyle (Jr.).
Analysis: Guyer was right on the cusp of making the post-season in 2017 and lost it's only two all-district players (Lauren Heard and Sydney Meador) to graduation. However, the chemistry for the Lady Wildcats is exceptionally strong this season and coach Aimee Kilgore is counting on that to help the team challenge for a playoff berth.
"We have great team camaraderie, depth and determination," Kilgore said.
Prognosis: Guyer should contend for a third or fourth playoff spot this season, but a lot will depend on how the team functions as a unit and how the younger players step up.
Liberty Christian School
Head Coach: Ken Burroughs (12th Season)
Last Year's Record: 22-15
Place in District: Fourth
Playoffs: Regional Finals
Returning Starters: Center Bailey Lewis, Forward Gabby McBride, Guard Aimee Alverson, Shooting Guard Payton Oltroggee
Players to Watch: Gabby McBride (Jr.), Bailey Lewis (Jr.), Aimee Alverson (So.).
Analysis: Liberty Christian is one of the powerhouses of TAPPS girls basketball; and, not too much should change in 2017-18. The Lady Warriors added former Southlake Carroll player Gabby McBride (Iowa State) to an already formidable line up and coach Ken Burroughs said he expects another good season from Liberty Christian.
"The key to our success this year is how well we defend and rebound on both ends of the floor," Burroughs said.
Prognosis: The Lady Warriors went 9-7 in district competition in 2016-17, but advanced all the way to the last game of the regional tournament. The team has won five state championships since 2007. Liberty Christian will compete for a state tournament berth in 2017-18.
Marcus High School
Head Coach: Jordan Davis (Third Season)
Last Year's Record: 17-15
Place in District: Fifth
Playoffs: None
Returning Starters: Forward Sammie Dufek
Players to Watch: Sammie Dufek (Sr.) and Evie Goetz (Fr.).
Analysis: The Lady Marauders was another team just on the outside looking-in last season; finishing 7-7 in district competition and missing the playoffs by one spot. Sammie Dufek is a returning first-team all-district forward and Goetz should provide an important spark for Marcus at guard.
"We're a young team with a lot of potential," coach Jordan Davis said.
Prognosis: Much like their male counterparts, the Marcus girls are a dark-horse for a playoff berth heading into the season. With just one returning starter, coach Jordan Davis will need her younger players to develop quickly to have a shot at the post-season in 2018.