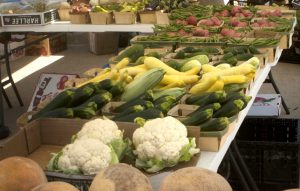 Beginning Saturday, residents will be able to sell their produce at the Farmers Market in Parker Square in Flower Mound.
The market will now have a Community Garden vendor space for residents to sell their homegrown fruits and vegetables, free of charge, according to a town news release. Four Seasons Markets, which manages the Flower Mound market, will provide the canopy and table space to the first three gardeners to arrive with their goods on a first-come, first-served basis. The number of gardeners may increase if space allows.
The Flower Mound Farmers Market is held every Saturday from 9 a.m. to 2 p.m. at Parker Square, 1500 Cross Timbers Road. Each week, 45 vendors bring entice more than 2,000 residents to Parker Square in search of locally grown fruits, vegetables, baked goods and more.
Click here for more information.