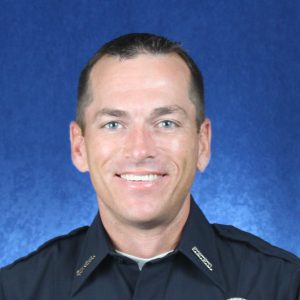 A Flower Mound police officer is resting at home this week, recovering from a shoplifting incident in which the suspect stabbed him in the face, according to Captain Wess Griffin of the Flower Mound Police Department.
Police received a call about a shoplifter inside the Academy Sporting Goods store in the 3600 block of Justin Road about 10 p.m. on Friday, Sept. 29.
The suspect, 18-year-old Nikoli Williford, had changed his shoes for a new pair of boots and had several other clothing items found on him.
He was still in the store when the first police officer, Chris Coots, arrived on scene. Employees pointed out the suspect to him and Coots began talking with him.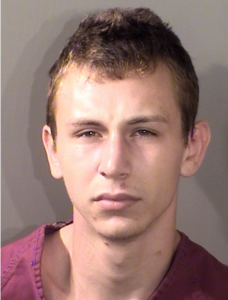 Then, Williford bolted for the front door, running into the anti-theft detectors. Coots chased him and grabbed him, trying to tackle him to the ground.
"While trying to get away from the officer, Williford pulled out a 3-inch stiletto knife from a sheath he was wearing and stabbed Coots in the face," Griffin said.
The blade entered the right side of Coots' face near the jaw muscle and pushed through all the way and pierced the back of Coots throat.
Knowing he'd been wounded, but not the extent of the wound, Coots continued to fight with Williford and kicked the knife away. Two citizens helped get the suspect under control and in handcuffs. Williford kept fighting– even after he was in handcuffs– and an additional officer arrived;  a Taser was used to control him. Williford was compliant after the Taser was deployed on him.
Coots received initial medical treatment and  was taken to the hospital. He remained there for two days, to get his wounds stitched and get the pain under control. Coots was released to continue recovering at home. He is expected to make a full recovery.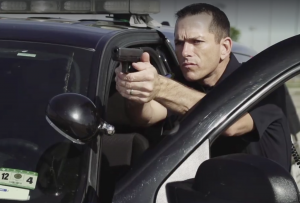 "Coots is a "great guy" with a wife and kids," Griffin said.
Flower Mound residents may recognize him from the police department's recruiting video.
"Coots is an all-around stand-up cop," Griffin said. "Flower Mound is flush with stand-up cops, but he's definitely one of those guys who would bend over backwards for you."
Williford, a Denton resident, was charged with aggravated assault against a public servant; a first degree felony. He was also charged with theft for about $570 worth of Academy merchandise; a Class B misdemeanor.
Jail records show he has also been charged with sexual assault of a child and causing injury to a child/elderly/disabled person since February of last year.