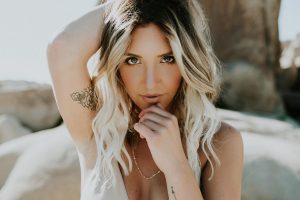 Pop artist Macy Maloy is releasing four new songs this fall, the young singer's first new music in a while.
She has about 600 more songs waiting.
Maloy grew up in Coppell and launched a music career while attending the University of North Texas. She was a songwriter for about two years before she was signed to a record label out of the United Kingdom. For three years with the label, she wrote a lot of music but struggled to get it released.
"I had heard stories about how it was harder to get music out after signing with a label," Maloy said. "I got dropped from the label a few months ago, which was a huge blessing because now I get to release the music."
She's been a country singer and a singer/songwriter, and she's lived in Nashville and Los Angeles, but now Maloy is settling into Flower Mound and is happy that she's putting out pop music "that I like and am proud of."
Maloy describes her music's style as pop, with some soul, some storytelling and real lyrics over beats. She released a single, "Bleed," in early September, and another one, called "Drive You Away," will come out on Oct. 13. She plans to release two more singles soon after, and then move on to those hundreds of other songs she's written.
"I tend to write in albums, like around 15 songs about one phase of my life," Maloy said. "These four songs, they don't really have a group, they're just something I'm passionate about. After they come out, then I'll look to doing full albums."
Maloy said she's been living in the Lakeside neighborhood for over a year, and she works several different jobs, including at a cleaning company on the side and as a personal assistant. She's also promoting her new music and working on her artwork and graphics, but she expects to travel to play shows after her four new songs are released.
Click here to go to Maloy's website. Her music is available on iTunes, Spotify, Youtube and more.