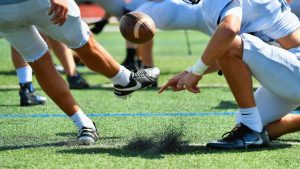 Marcus 29, L.D. Bell 7
Marcus opened up district competition with a victory on Friday night, winning 29-7 over L.D. Bell.
Justin Dinka led the way offensively for the Marauders, rushing for 148 yards and two touchdowns, and catching a touchdown pass.
Defensively, Kevin Netters intercepted a pass and returned it 26 yards for a touchdown.
Marcus will host Lewisville in the annual Battle of the Axe at 7:30 p.m. on Friday, Oct. 6.
Plano 38, Denton Guyer 36
Guyer mounted a massive fourth quarter rally, but could not quite complete the comeback, losing to Plano by two points.
Plano led by a score of 38-14 heading into the fourth quarter, before the Wildcats scored 22 unanswered points.
Kaedric Cobbs had a career night, rushing for 295 yards and four touchdowns for Guyer, and Seth Meador scored on a 19-yard touchdown run in the game.
Guyer will play at 7:30 p.m. on Friday, Oct. 6, at Plano East.
Southlake Carroll 45, Flower Mound 31
Flower Mound came up a little short in its district opener on Friday night, losing to Southlake Carroll 45-31.
Blake Short passed for 198 yards and two touchdowns for the Jaguars, and Alec Brooks rushed for two touchdowns in the game.
Flower Mound will host Northwest ISD's Byron Nelson at 7:30 p.m. on Friday, Oct. 6.
Coram Deo 40, McKinney Christian 7
Coram Deo improved to 4-1 on the season Friday night, cruising to a 40-7 victory over McKinney Christian.
Brooks King got things going early in the first quarter for the Lions, breaking a 54-yard touchdown run to give Coram Deo the lead.
Hunter Longcrier scored on a 42-yard run later in the first quarter, and Coram Deo led 14-0 at the end of one.
Longcrier scored on a 17-yard run early in the second to extend Coram Deo's lead.
Jarren Heitschmidt caught a 60-yard touchdown pass from Longcrier, and Coram Deo led 27-0 at the half. Heitschimdt caught a second touchdown pass in the third quarter.
Defensively, Max McCalley returned a 65-yard fumble recovery for the touchdown late in the third quarter.
Coram Deo is in its bye week next Friday.
Prestonwood Christian 14, Liberty Christian 0
The struggles continued for Liberty Christian on Friday night, as they lost to Prestonwood by a score of 14-0.
The Warriors were limited to 132 yards of total offense.
The Liberty defense came up with an interception in the game.
Liberty Christian will host Parish Episcopal at 7 p.m. on Friday, Oct. 6.
Argyle 27, Paris 7
The Eagles wrapped up their non-district schedule with a perfect 5-0 record, defeating Paris by a score of 27-7 on Friday night.
Chase Petter contributed by recovering a Wildcats fumble and running it in for a touchdown to take the score to 20-0 in the second half.
Argyle will host Decatur in its district opener at 7 p.m. on Friday, Oct. 13.