Family, neighbors and friends are rallying around a Lantana man who was seriously injured in an automobile accident on Thursday afternoon.
Mark Giacumakis was a passenger in an Uber vehicle on his way to the airport for a business trip when another vehicle came across the median on Lantana Trail and struck the car he was riding in, causing it to rollover.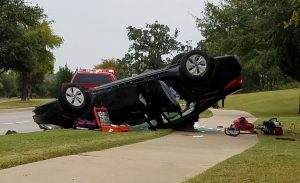 The father of four suffered multiple injuries, including a broken hip, broken ribs and a large laceration on his face that may require reconstructive surgery.
No one else in either car was seriously injured, and the Uber driver was able to walk away from the crash.
A GoFundMe page was set up for Giacumakis to help pay for medical-related expenses.