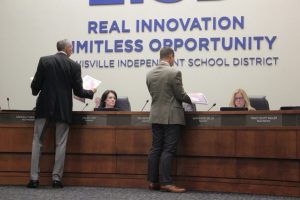 It is a topic that agitates parents like almost no other that a school board trustee would deal with, but Lewisville ISD Superintendent Kevin Rogers held a workshop with the board Tuesday night to address it.
Preferring not to speak of the "R" word as Rogers referred to the topic of rezoning schools, the board instead discussed "boundary adjustment considerations."
Trustees discussed rezoning between Bridlewood and Flower Mound elementary schools. Three options presented would bring some or all of the town of Double Oak into the Bridlewood zone.
Zones for Bluebonnet and Old Settlers elementary schools in Flower Mound might also be adjusted.
Read more from The Lewisville Texan Journal.