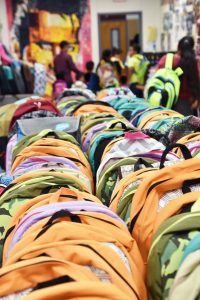 More than 4,000 underprivileged students in the Lewisville Independent School District received backpacks, school supplies and more to get prepared for the first day of school later this month.
The children attended the LISD Back to School Fair on Saturday at Lewisville High School, where they received a new backpack filled with the required school supplies, vision exams, sports physicals, immunizations, haircuts and information about student aid and after-school programs.
The supplies and other free services were funded by local sponsorships and donations.
The first day of school in the LISD is Aug. 28.
Click here to see more than 50 photos taken at the event by the LISD.