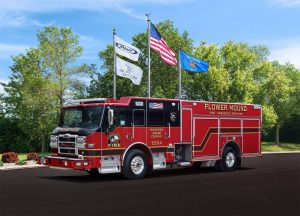 Flower Mound residents can help "push in" the town's newest fire engine at an event at Flower Mound Fire Station 4 on Saturday.
In the traditional "Push In" ceremony, the newest fleet addition's wheels and tires are washed, and the fire chaplain gives a group blessing. Then, attendants help push the rig into the fire bay without power, and the engine is then called into service for the first time.
The new addition is Engine 504, a 2017 Pierce Velocity pumper, which holds 750 gallons of water and can put out roughly 1,500 gallons-per-minute.
The "Push In" ceremony will begin at 10:30 a.m. on Saturday at Station 4, 4601 Bridlewood Boulevard.