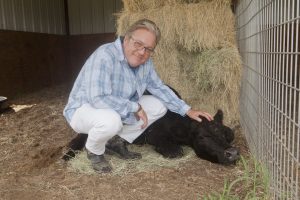 It was 2007 and Bob Williams was staying at the Los Angeles-area home of long-time friend, the late actress Doris Roberts (best-known as the mother on "Everybody Loves Raymond"), when his life changed forever. Her intuition sensed trouble when he didn't look right and proved correct when he was diagnosed with a stroke.
"She saved my life," said Williams, who moved to Texas from Southern California in 2000. "I was blessed to have her in my life."
After five days in the hospital– and several weeks recovering at Roberts' home– Williams returned to Texas determined to do something different; after 17 years working in various human resource positions with Motorola Corporation.
"I didn't know how much time I had left and thought I better do something I love," he said. "My whole life, I was focused on going up the corporate ladder and suddenly I realized, when I had my stroke, it was really an eye-opener."
While searching for new opportunities, Williams attended a trade-days event where he encountered a tiny goat caged in tight spaces. Asking the owner about the possibility of moving the animal to bigger quarters, the response wasn't positive. So, he handed the owner $60 and took the goat back to the American Pet Spa & Resort he and friend Marty Polasko started in Keller in 2002, before moving to Argyle in 2006.
Soon thereafter, he rescued several other animals and he and his doctors quickly noticed how much better he felt.
"I felt this unconditional love and couldn't wait to get up to take care of them," said Williams, who was diagnosed with severe Post-Traumatic Stress Disorder (PTSD) and anxiety in the 1990s. "That's when I started to realize working with abused animals … there was something there."
With Roberts' encouragement and help from retired National Football League player Carl Mauck, he launched Ranch Hand Rescue Counseling Center and Animal Sanctuary as a non-profit charity in 2008. It originally saved abused and neglected animals headed for euthanasia. Once those animals responded to treatment, they were trained to help comfort abused and neglected children, women and others with mental health issues plus military veterans suffering from severe PTSD.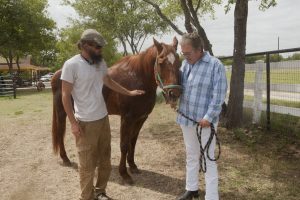 Everything done at Ranch Hand Rescue is for animals and people who have not had success with traditional therapies and are losing hope of recovery. It offers animal-assisted therapies in conjunction with professional trauma counselors and has grown to about 50 horses, chickens, llamas, goats, sheep and other animals helping approximately 100 people each week.
"They may tell an animal something they would not tell a person," Williams said. "I really think we can help anybody, but our area of expertise is folks who don't see any hope. When they get to us they may be self-harming. They may have eating disorders. They may have anger issues. They certainly have low self-esteem.
"What happens in these cases is we're collaborating with whoever they go to for treatment. We want this to be an alternative form of treatment. Not that we're any better, because we're not. Anybody who does this work is incredible. It's just a different way of treating people; to try to get to the root of the trauma. If we can, we can put together a plan of treatment of healing for them to go on and live productive lives."
That work was recently utilized by the Texas Veterans Land Board in a pilot program to help veterans. Residents of the Clyde W. Cosper Texas State Veterans Home in Bonham came to Argyle to take advantage of Ranch Hand Rescue's animal therapy programs. About a dozen veterans paired individually with animals in the eight-week program.
"They couldn't wait until their day of the week came up," Williams said. "The nurses said they ate better and slept better."
The pilot program proved so successful it will be expanded statewide. Williams also was asked to prepare a program specifically for women's veterans.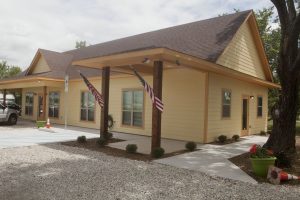 Because of Ranch Hand Rescue's continuing growth, a second location opened in late June in south Denton. The 1,400-square-foot facility adds three counselors to the five in Argyle, with Williams anticipating hiring two more by year's end.
"It's handicap-accessible so we can better serve veterans," he said. "It's going to be a busy place. We had been renting space at the Pet Spa and outgrown it 18-months ago. I can foresee a time when we outgrow this place in 18-months, since we serve the entire Metroplex now and beyond."
To help with its efforts, Ranch Hand Rescue raised more than $40,000 on June 21 at the second-annual Sunset Serenade Summer BBQ Fundraiser in the parking lot outside Savory Bistro in Bartonville Town Center. An impressive 360 people attended.
"I couldn't believe it," Williams said. "People just kept coming and they came from all over."
With his entity continuing to be successful, Williams is looking on how it can become even bigger; especially someday without him.
"As it continues to grow, it will take someone younger and smarter," he said. "We're already over $1-million in budget and in 2018 we'll probably double it. When you want to raise $20-million or $25-million you have to have somebody that has the experience doing that. I want this be my legacy; and, for me it's what can we do better, what can we do smarter, what can we do faster."
In the meantime, Williams will be working with the University of North Texas to measure why abused and neglected animals connect so well with abused and neglected humans.
"I believe all life is precious, whether it's a dog or a horse or a goat or a person or a child or an elderly person, who can't take care of themselves," he said. "We have to be their voice. It's our moral obligation.
"I love to learn. I like to surround myself with people that are smarter than me. I ask a lot of questions. Every day is a new learning experience. But there is nothing better than watching a child or an individual heal. It is the greatest thing I've done in my life."
Learn more about Ranch Hand Rescue at ranchhandrescue.org.