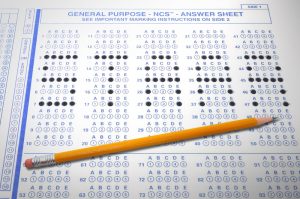 This year, the SAT is offering an early test date of Aug. 26, in addition to the traditional initial date in October.
The idea is to allow  students to spend more time preparing during the summer, instead of during the school year, advised Juanita Johnson, director of Sylvan Learning Center in Flower Mound.
The test has also been redesigned, she said. Among other changes, the essay is now optional; the test is made up of four or five longer sections, rather than nine shorter sections; students are no longer penalized for incorrect answers; and, in one section of the math portion, calculators are no longer allowed.
"The new SAT focuses more on practical problem-solving and understanding in context," Johnson said.
The SAT is a standardized test widely-used in the U.S. for college admission. Originally called the Scholastic Aptitude Test, it was re-named the Scholastic Assessment Test, then the SAT I: Reasoning Test and now simply the SAT.
Although the early  SAT is in about a month, it's not too late for students to hit the books.
"It's never too late," said Helen Young, owner of The Tutoring Center in Flower Mound. "Any kind of review they can do will help them."
The changes are positive and students tend to like them, Johnson said.
Sylvan offers a free diagnostic practice SAT that: "allows us to get a good breakdown of the student's strengths and weaknesses," Johnson said. "Then we sit down with the student and parents and make a customized plan to help them get into the schools they want."
The Tutoring Center also offer a free proctored practice tests, just call to sign up, Young said. And even though The Tutoring Center's full program typically takes more than four weeks, there is a benefit to starting a full program now.
"For many students, it's a good idea to take the SAT more than once," Young said. "Students could start in a program now, take one while still learning, and take the other after finishing."
The Aug. 26 early SAT test's registration deadline was July 28, but late registration dates of Aug. 8 for mail-in, or Aug. 15 for online or phone late registrations are available.
For more information, click here.