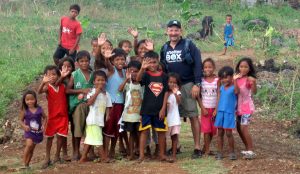 A Denton Fire Department battalion chief has been recognized by the president of the United States for his efforts last year to assist disaster survivors.
Brian Glenn has "always had a heart for helping people," leading him to the Denton Fire Department, where he has worked for 32 years.
"It evolved and extended out to help people not just in the local community, but around the world," said Glenn, who lives in Argyle.
Several years ago, Glenn learned through his rotary club about ShelterBox USA, an international disaster relief organization that delivers emergency tented shelter and other lifesaving supplies to survivors of disasters and other humanitarian crises.
"As I kept looking into it, I became more impressed with the organization," Glenn said of ShelterBox, a "lean" nonprofit aided about 150,000 people in 14 disasters last year, according to a news release. ShelterBox provides families with disaster relief tents or structure repair equipment, solar lights, water filters, blankets, mosquito nets, children's packs and other essential equipment.
Glenn said he's seen lots of organizations that help people in different ways, but he chose ShelterBox because it "provides the most essential help in a rapid manner to the people in the most need."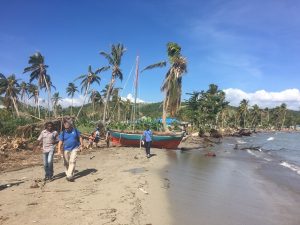 About seven years ago, Glenn started as an ambassador for the charity and raised awareness and money. He later applied to be a response team member, a volunteer who gets deployed into the field to aid survivors of disasters. He's been deployed once or twice a year, for two to three weeks each time, each time to help people affected by water-related natural disasters, such as the Philippines, Argentina and Paraguay, and most recently Haiti, which was devastated by Hurricane Matthew late last year.
Glenn said he went to Haiti in December, about two months after the huge storm struck. He helped facilitate getting much of the ShelterBox donations from a warehouse in Port-au-Prince to the outer parts of the country, which received more damage, he said. Then he went out to help distribute the donations to those most in need and assist the families trying to rebuild.
Glenn said he hasn't been deployed to aid in the Syrian refugee crises, but last year he helped facilitate getting resources, equipment and volunteers to the area to help the refugees.
For his efforts in 2016 as a ShelterBox ambassador and response team member, Glenn received the President's Volunteer Service Award, a special recognition presented on behalf of President Barack Obama. The award is part of a national recognition program created in 2003 through the President's Council on Service and Civic Participation for individuals of all ages who contribute a significant amount of time to volunteer activities. It's the fourth time Glenn has received the award.
"I am incredibly honored to work alongside our volunteers, including Brian," said Kerri Murray, ShelterBox USA President. "It is through their continuous efforts that we are able to help transform lives and rebuild communities around the globe."
Click here to learn more about ShelterBox USA.