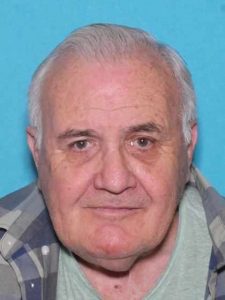 Update: The missing elderly Flower Mound man has been found safe and returned home, according to the Flower Mound Police Department.
A citizen saw a vehicle matching the description in the Silver Alert and called police. The Silver Alert has been canceled.
Original story: The Flower Mound Police Department issued a silver alert Thursday for a missing elderly man.
Charles Edward Skinner was last seen late Wednesday night, according to the police news release, but he apparently took his 2011 black Honda CRV and left his home in the 2000 block of Brookville Lane sometime between 11 p.m. and 7 a.m.
Skinner is an 85-year-old white man, possibly wearing a T-shirt and shorts with no shoes. He walks with an abnormal gait and has an extensive medical history including strokes, cancer and memory loss, according to the news release. He is in need of medications for stability of his chronic conditions and is at risk for internal bleeding with injury.
The black Honda CRV he may be driving has a Texas license plate of DF3L914. Anyone with information related to the whereabouts of Skinner is encouraged to call the Silver Alert phone bank at 972-539-4357.