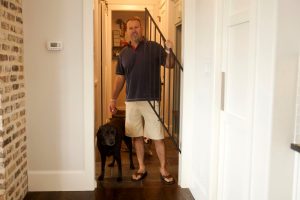 All Drew Walling wanted was an easy way to keep his Black Lab puppy, Scout, from scratching the hardwood floors and baseboards of the home his company built for his family four years ago in Double Oak. What he ended up with may just revolutionize the homebuilding market.
As he was planning the house, he told former Double Oak neighbor Gordon Jones he wanted to perfect a gate that collapses into the wall. Jones, a retired air traffic controller with an engineering mind, worked with Walling to create the original Hideagate, which was placed at the convergence of the Wallings' kitchen, living room, mud/laundry room and garage entrance.
"I originally thought we had solved an issue for us; it fit our needs," said the owner of Drew Walling Custom Homes. "We thought it was pretty neat and pretty cool and let's get back to building houses."
Since his house also doubled as a show home for potential customers, they noticed the new invention. By the end of 2015, customers asked about adding it to their new homes. That's when Walling began thinking Hideagate could become its own business and it's now automatically included in all of his company's homes.
"At that point we thought 'maybe we're on to something,'" Walling said. "The house next door, that we just finished, has two gates– one in their laundry room and one at the top of their staircase– so their dog doesn't go up and pee on the carpet upstairs and their 3-year-old doesn't fall down."
The 50-pound steel-weighted interior unit is a more modern and practical version of the cheap plastic baby gates used for years to keep toddlers and dogs at bay.
Walling's first design– and the one he originally filed a patent for last year– used 2 x 8-foot boards. After some experimenting, he realized it worked better with 2 x 6's.
Seeing what works in a home has been Walling's business for 13-years. The Liberty Christian High School graduate earned a degree in restaurant and hotel management at Texas Tech University in 1998 and seemed destined to follow that path.
But, when he saw one of the busboys he managed at the Pappadeaux's on Northwest Highway in Dallas made more money than he did, he quickly decided restaurant management wasn't for him and changed paths into real estate.
He started at the Preston Road office of Keller Williams in North Dallas, where he worked until starting his company in 2004. As part of a mega-sales team, he personally saw thousands of homes where he developed his ideas of how they should be built.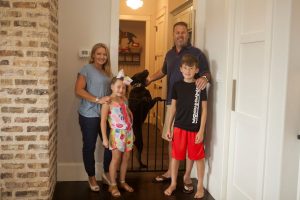 "I would look at them and wonder: 'why did they do something like this or change this or move this wall,'" he said. "When we bought our first home (in Dallas), an old Fox and Jacobs, [it was] the ugliest thing I could find. It was a converted nursing home and there were two patients per bedroom in hospital beds and hadn't been updated since the early 1970s.
"I started tearing into it and figured it out as we went. Our friends would see what we had done and asked if they could do something similar to what we'd done and we started a construction company."
Walling built a 4,200-square-foot, $800,000 spec home as part of a 17-lot community in Bartonville in 2005. His company did well until the 2008 housing crash when, for nearly two years, nobody even inquired about lots. That changed when the market rebounded in 2011-2012 as he sold off the remaining inventory.
Today, his company builds just three to four houses annually, primarily in Bartonville, as he backs-off a bit to focus on Hideagate.
"We could build 50 a year the way the market is going, but I just feel if I don't purposely chase this [Hideagate] and put all my effort into it, I could easily get back into the construction world and let this sit on the sidelines," he said. "So, we're definitely rolling the dice to miss the good times of the building world to chase this dream."
This is not your typical $40-$50 baby gate. Hideagate is a built-in, 14-gauge steel, powder coated, 1,000-times better-than-anything on the market. It retails for $850 (not including installation), but has proven quite durable.
"My 110-pound Labrador has jumped on it every day for four years and hasn't knocked it down," Walling said.
Walling and wife Tiffany have spent the past year building Hideagate into a business, including filing the patent, marketing, videos and a website. They now are getting aggressive on sales with the focus on homebuilders in Texas. Once that's established, it will be on to the South and, if all goes well, the rest of the nation.
Walling estimates his potential market to be least 60,000 new homes annually. If he's right, Hideagate could be a similar reincarnation of pull-down attic stairs that were virtually non-existent 30-40 years ago.
"It's just a matter of educating homebuilders and the homebuilding public," said Walling, whose family also includes son Matthew, 12, daughter Gracen, 8, and second dog, Lucy.
"We'll see what happens," he said. "We're betting it will be a big success."
Learn more at www.hideagate.com.