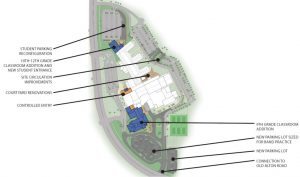 The end of the school year meant a start for construction on the addition of a ninth grade wing and improvements to the fast-growing Guyer High School in south Denton.
Crews are adding classroom space, re-configuring the student parking lot and creating a controlled entry.
Guyer is among the fastest-growing campuses in one of the fastest-growing areas in North Texas. Denton ISD spokesman Mario Zavala says the addition of the ninth grade wing at Guyer is critical.
"Guyer ended the 2016-17 school year with 2,504 students (672 freshmen) and is expected to see incoming freshmen classes of 660 freshmen this year (2,582 enrollment) and 726 freshmen (2,696 enrollment) in the 2018-19 school year," said Zavala.
The improvements to Guyer will also include courtyard renovations, an entrance across from Old Alton Road and a parking lot that will be able to facilitate band practices.
All the work should be completed by August 2018.