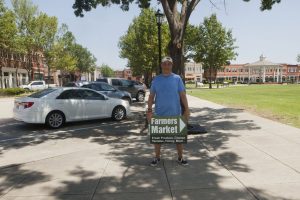 The Town of Flower Mound invites everyone to celebrate the one-year anniversary of its Four Seasons European Market located at Parker Square this Saturday, June 3, from 8 to 10 a.m., as part of the town's "Mornings with the Mayor" program.
Environmental Services Director Matt Woods was– and has been– the town's leading support staff member of the Four Seasons Markets and its founders, Vincent Hirth and Florine Bowman, of Florine Bowman Pastries in Dallas fame.
Like the other 24 successful European-style markets Four Seasons Markets has launched, the local market is modeled after successful festivals the couple ran in France, prior to moving to America.
Even though there have been some glitches—like the main produce vendor not making it to the June 11 opening market (because his truck broke down on the way to town)—the number of vendors and the number of people attending has grown steadily.
It was such a success, that parking issues dictated the Market's need to relocate. The Town Council and staff moved quickly and, with the enthusiastic support of Parker Square management and existing tenants, the Market moved in August 2016.
Curtis Shore, who operates a real-estate investment firm in Flower Mound– and is an investor in five of the buildings with storefronts on the square– was an early adopter/supporter of the Market.
"The Market has been a big success and it appears the community continues to enjoy and patronize it," said Shore. "Vincent, Matt and their teams have done a terrific job; we hope to continue our partnership with them long-term,"
Under new ownership since May 2015, Parker Square has re-cast itself as a community business center with several popular restaurants featuring diverse dining experiences, a soon-to-open boutique coffee shop, the Town's Business Innovation Center, many new and expanding office tenants, a new salon, plus a strong academic foothold with Founders Classical Academy, North Central Texas College and a new Midwestern State University campus opening this coming fall semester.
Each Saturday, the Market draws between 40-60 vendors and attracts an average of 1,000 people from Flower Mound, Lewisville, Highland Village and other area communities. It is estimated that the Market has generated over $1,000,000 for local small business owners in its first year of operation.
"The Flower Mound Market has been a terrific opportunity for me to sell my products," said Sara of Brothers Products, who sells fresh hummus, olives and other Mediterranean faire. "The people visiting have really embraced the Market and it's nice to see familiar faces every Saturday."
Mayor Tom Hayden invites residents to join him at the Parker Square Gazebo on Saturday, to celebrate the Market as part of the "Mornings with the Mayor" program.
"Accessibility is one of the keys to local government and 'Mornings with the Mayor' will provide the opportunity for our citizens to share their views, talk about issues, ask questions, voice concerns, and offer comments or suggestions in an informal and comfortable forum," said Hayden. "I look forward to interacting with our residents on a personal level during these events."
About Four Seasons Markets
Four Seasons Markets develops and manages European Markets where people can discover and purchase homegrown or handmade products from ranchers, farmers, specialty food producers and artisanal craftsmen in a community atmosphere that mimics the village markets popular throughout Europe.
Although participating vendors and shoppers both benefit from the Farmer's Market, the real aim of the market is to support local small businesses: "that's how we originally started [in business] back in France," said Hirth. "We want to be a part of the community. We welcome local small businesses to bring tastings to the market, too, to help promote their own business. All they have to do is contact us." www.fourseasonsmarkets.com
The Flower Mound Market takes place every Saturday, from 9 a.m. to 2 p.m., at Parker Square, 900 Parker Square Road in Flower Mound. 
Once its permanent future site construction is completed, the Market will locate in The River Walk near the Amphitheater and splash pad.