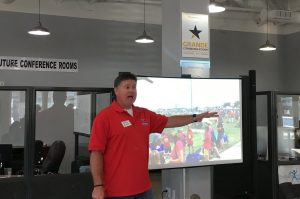 The Texas World Series of the American Amateur Youth Baseball Alliance is returning to Flower Mound's Bakersfield Park for the eleventh consecutive year.
The two-weekend event starts on June 24 and continues again July 8, following a break for Independence Day weekend.
It's anticipated that more than 300 teams, with players in all age groups, will participate in the 2017 event. That translates to about four-thousand players, plus friends and family members, who will descend on North Texas.
"There are tens of thousands of people in the town for these events so the economic impact to the Town of Flower Mound is pretty substantial when you think about those folks all needing to eat breakfast, lunch or dinner or do some shopping," said Tracy Black, general manager of the Flower Mound Youth Sports Association.
He added that, given the structure of the tournament with each team playing at least six games, the majority of the players and their families are in Flower Mound and surrounding communities, like Lewisville and Highland Village, for the duration.
Flower Mound Economic Director Andrea Roy said: "We've just purchased a [economic impact] model that will better be able to tell us the dollar impact of this type of event, but when you're talking bringing in 300 teams and their families and their siblings, it's just an absolute boom for our service providers; and, our new hotel."
During his presentation in Parker Square's Innovate Center to more than a dozen business representatives, on Wednesday, Black was asked how many room-nights the tournament has translated to in past years for the area, by a representative from Flower Mound's first hotel. Black answered that, based on the number of teams participating, the number has fluctuated between one-thousand to twenty-five hundred room-nights.
However, it's a frustrating reality that the Flower Mound Courtyard by Marriott Hotel will not receive its Certificate of Occupancy (CO), until the nearby parking garage is finished; estimated to be on an October timeline. So, unfortunately, this year's lodging revenue will not stay in town.
It takes more than a hundred volunteers to work the two Saturdays of the tournament and Black said the business community has already stepped up.
"This year we had a Flower Mound business, CustomInk, come forward and I think they're going to fill 40 or 50 of those positions," Black said.
Those who sign up to help do everything from trash collection help to assisting in some of the many special events that are part of the tournament. Black told the group that it's all about the kids.
"I'm a baseball guy.," Black said. "I grew up playing baseball, I love baseball. [But] some of these kids play too much baseball and it's all about 'how can I increase my batting average, how can we win;' and, we try to make our opening days just fun."
The opening day events include a hat toss, home run derbies, competitions involving an automated throwing machine and pin trading that helps the players, who come from as far away as Mexico and Florida, get to know each other.
The Texas World Series has generated more than $250,000 that the non-profit Flower Mound Youth Sports Association has been able to give back to the community in the form of park improvements over the past decade.