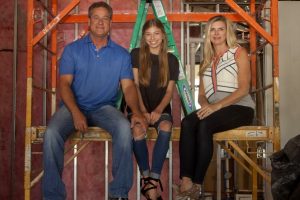 Residents of Flower Mound's Lakeside DFW development, plus additional area "foodies" who like specialty foods presented in an intimate shopping setting, will soon have a place to call their own.
The Market at Lakeside will feature many basic staples, but also a variety of healthy grocery items, fresh produce, deli sandwiches, plus an assortment of wines and local craft beers.
Located next door to the soon-to-be-open Mena's Tex-Mex Cantina at Lakeside and Northwood, it will have only a total of 1,087-square-feet, including 800-square-feet for sales. It should be open next month.
"We always say it will be like shopping in one of your living rooms," said Billy Ledet, who is co-owner of the store with wife, Talitha.
"It has more conventional items, but also locally-sourced produce and meat," said Talitha. "We go to the farmer's market quite a bit to network with people that are local and regional, really to help support this community; and, really be a store that's tailored to the community. So, if [customers] have special requests– or things that they want– we'll be able to accommodate them, because we're independent."
The Ledets both bring backgrounds in customer service and marketing.
Talitha, who previously managed several area private schools and food service operations, will be the primary worker. Billy works part-time, while continuing his regular job in retail telecommunications. But, if everything goes according to plan, they'll hire additional workers to help out.
"The products we pick are going to sell themselves, because they are what people want," said Billy. "But, it's that whole relationship; the experience, customer service and marketing aspect that we feel we bring to the table."
In addition to Lakeside residents being able merely to walk to fulfill their needs, there will also be curbside pickup and delivery available to the neighboring apartments, upcoming senior community and condos. Of course, commuters will be able to take a short detour during their travels on FM 2499. There also will be outdoor seating in front of the store for people to meet.
"We'll definitely be a community-driven market," Billy said. "Customers may come and, even if we don't have what they want on the shelf [currently], if there's enough [people who] ask for that product, we can get it in a day."
The Market at Lakeside is located at 2500 Lakeside Parkway, Suite 100. Check them out online at www.themarketatlakeside.com.