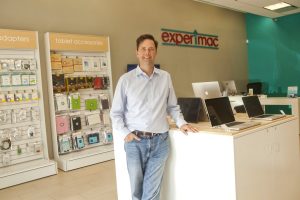 Instead of paying thousands of dollars to buy new Apple manufactured equipment, why not spend hundreds on gently used pre-owned Apple products?
It's an intriguing concept that prompted long-time Lantana resident Chris Cole and his wife, Lannie, to leave the corporate world behind and open an Experimac franchise in The Shops at Highland Village; a retail store where Apple enthusiasts can buy, sell, trade, upgrade or repair much-loved Apple products.
"It seems to fit a niche that didn't exist," said Chris, a former supply-chain consumer products company vice president. "Apple computers are built well, customizable, and built to last. At Experimac customers can get a great computer at a great price. And unlike at the Apple store where you might have to make an appointment or wait a long time, we can help them immediately."
In addition to sales, Cole and staff repair both iPhone and iPad mobile devices, MacBook laptops, and iMac desktop computers. Upgrades, such as replacing hard drives with new, fast solid-state drives and adding additional memory can be done, as well. These updates can make a five-year-old laptop operate comparably to a brand-new computer.
"Apple makes great products, but they're priced that way, too," he said. "Experimac gives people a chance to get into Apple products at a better value.
"Our inventory just comes from people in the community or wholesalers," said Cole, who employs five part-time employees, primarily UNT science and engineering students. All products are thoroughly tested and any necessary repairs are completed prior to being put out for sale.
Entrepreneur Jim Muir opened the first Experimac in 2012 in West Palm Beach, Fla., after years of working on Apple-branded equipment as a hobby in his garage and selling it on eBay. He and partner Ray Titus decided to franchise the concept a couple years later providing opportunities for people like Chris and Lannie Cole. There are currently seven locations in the DFW Metroplex.
"We're getting great feedback," Chris said. "People are excited to have a local destination to service and buy Apple products in the neighborhood with good deals on great products, a friendly and helpful staff and a 90-day guarantee on all products and services."
Click here to visit their website.