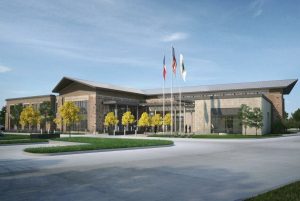 The site plan for Flower Mound's new Town Hall was unanimously approved by Planning and Zoning commissioners during their meeting Tuesday, which forwards it to Town Council's June 15 meeting agenda.
This coming June, the guaranteed maximum price contract, or GMP, will be sent to council for approval and construction will begin.
The new Town Hall will be 46,000-square-feet and will bring all of the town's 137 employees under one roof.
Currently, there are 61 employees in the 18,000-square-foot Town Hall, with 76 employees in 19,000-square-feet in the Atrium building rented for $300,000-per-year.
In addition, the new building will feature double the seating capacity in the council chamber; a large lobby and covered patio area for employee and overflow capacity for events; and, ADA improvements including ramps and braille-signage.
The aesthetic features will include a veterans memorial in the courtyard, landscaping and design elements to be used educational tools for future developments, as well as a local artist feature-wall in the lobby.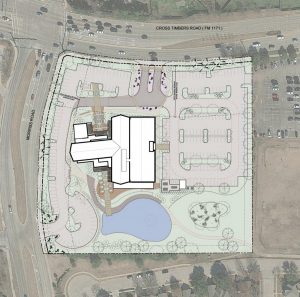 The LEED-certified building will feature exterior walls of glass to help light interior offices and open spaces and daylight-harvesting to reduce artificial lighting, which will be LED, not fluorescent.
Building construction should be completed in 15-months– allowing the current Town Hall employees to transition—to be followed by demolition of the old building to expand the employee parking and then allow the Atrium employees to relocate within an 18-month project completion timeline.
"We have expansion built-in with 10 future offices for staff and programmed areas for specific staff and then 1,500-square-feet on the second floor which we could expand into, as well," said Deputy Town Manager Debra Wallace.
Andrew Oxley representing the Oxley Williams Tharp architectural firm, spoke about how the design was created.
"It started with the approach to the front entry and the interior would have the staff on one side of the building, with public areas on the other," he said. "Part of the aesthetic of the building was taken from other town buildings—the CAC, the Senior Center [also designed by his firm]—we used those elements.
"That north courtyard is a public space that engages the public, instead of being a sterile space. Flower Mound is a friendly, open environment."