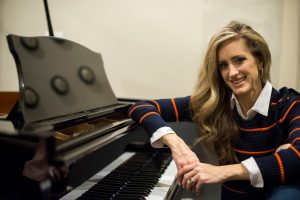 "Every coin has two sides," said Heather Parks, a Lantana piano teacher. "That saying applies to playing a keyboard instrument. Some people, like myself, are born able to hear a basic melody, then reproduce it on the piano from memory."
In common parlance, that talent is called playing by ear, but don't envision tap dancing up and down the ivories on an earlobe, instead of trained fingertips.
The flip side of that proverbial coin is musical literacy– or reading notes– and a working knowledge of how the physical keys are related to what's on the page. Deciphering musical notation, like reading the written word, is a learned intellectual skill; and, frequent practice– as the infamous "they" say– makes perfect.
"Most people don't play by ear," Parks said, whose New Song Music Studio is in the business of teaching the arts of reading and playing music. "I personally have been teaching piano for over 19 years now," but the studio throttle is wide open with a staff of accomplished musicians who teach drums, guitar, violin, flute, voice, and piano "and we are pleased to offer early childhood music education."
Born in Miami, Fla., Parks grew up the oldest of seven children in the Trenton, New Jersey area.
"When I was four, my parents inherited Grandma Boyce's piano," she said. "I sat down and plinked out the hymn Blessed Assurance." That surprising event set Parks' life on a collision course with a neighborhood piano teacher.
"As a mature musician, the only problem I see with the ability to play by ear is that it makes for lazy music students who avoid the work of becoming good note readers," she said. "The shortcut comes with a price tag."
Parks received the wake-up call after losing a musical opportunity because she hadn't been a diligent student.
"I knew in here," she pointed to her heart, "what the problem was and I decided then and there to fix the situation. I grew up in a Godly home where the practice of principles– like personal honesty– was a daily occurrence; not something we just did on Sundays."
That moral foundation stone paid a lifetime musical dividend.
"Natural talent has to be mixed with hard work if a musician wants to succeed in the art," she added.
Church was the original springboard for Parks' musical talent.  Early in life she discovered herself in demand as a singer, player and arranger.
"An arranger takes a familiar tune and does something musically-unique with it" like changing the tempo or adding other ear-pleasing embellishments," she explained. "Church impacted my musical taste." [She has an album of arrangements called "Sacred Passion" available on iTunes.]
After high school, she attended Hyles Anderson College near Chicago, where she met her husband, Todd. After graduation, the newlyweds skedaddled straight to Texas for their first jobs in staff positions at Temple Baptist Church in Flower Mound.
"After the birth of our oldest child in 1999, I opened up my talent and our Lewisville living room to local piano students," Parks said.
She became a teacher-of-choice, which led to hiring staff in 2015 to accommodate demand.  Today the studio boasts 160 students.
"We are actively searching for a bigger property to expand into," she said.
Clients arrive at the New Song Music Studio with a wide array of strengths and weaknesses.
"We teach any age, any background and any level of musical experience," she said. "We walk with our students on their musical journey."
Parks' advice to parents is: "Some things in life are worth an up and down journey. I encourage parents to stay the course with their children, because it comes with great life lessons, nurtures creativity; and, best of all, produces enhanced brain function. There is a whole world of nonverbal thinking that music study triggers. If we want to reach our full potential, we need to harness all our brainpower. We can all bless and inspire others, if we work to develop our talents."
From time to time, the studio has served students with Attention Deficit Disorder, autism and special needs. New Song Music Studio students spend up to an hour in their weekly private lesson.
"Expect your student to learn music fundamentals that include sight reading, theory (the whys and wherefores), technique (performance habits), rhythm (they need a metronome), ear training (listen with your brain to what you hear with your ears), and creativity (improvising by playing a song in different places on the instrument)," said Parks.  "Each week we review old material to make sure the student understands the concepts his/her song(s) introduced.  Practice at home is critical to success.  That is when students implement and solidify new knowledge."
After each lesson, students get to choose something from the ever-popular prize drawer.
Practice time is often the moment when parents supply the maturity young students have not yet developed.  It establishes a daily piece of the home and study routine and allows together time. Many parents have found they can help their students if they know the aim of each lesson.
"There's no reason parents can't learn along with their children by observing the lesson at New Song Music Studio," she said. "We don't want our students to be intimidated by formal recitals so we offer less intense studio performances and informal recital opportunities throughout the academic year."
New Song Music Studio adheres to the Denton ISD instruction schedule, but includes all Monday holidays.  The studio is closed on Thanksgiving, Christmas and during spring break.
"We have music summer camps, Center for Young Musicians program and will shortly introduce MusiksCool, which is an introduction to music appreciation listening, composing and learning theory."
This year's summer camp is "FAME -a fine arts music extravaganza."
Music, art/set design, and musical theatre, production, all in one camp," said Parks. "FAME offers a fun, engaging approach to these aspects of the fine arts. Plenty to learn at each level for experienced and non-experienced students. Discover, develop, and improve musical, artistic, and acting abilities. Everything we learn together will be displayed in an exciting production on the last day of camp."
Learning to make music is a one-step-at-a-time process.
"We're here to enjoy music," said Parks. "We want our students to have fun while they learn and to get to know their instrument as a good friend."
Check out the studio website at: www.newsongmusicstudiotx.com.