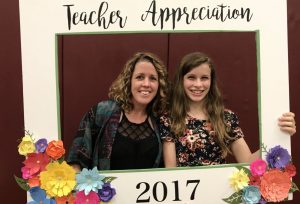 Teacher Appreciation is being celebrated all over the community, but rather than delivering a shiny apple, 120 Flower Mound teenagers decided to take their gratitude to a new level.
The teens hosted and invited teachers who have influenced their lives to a dinner at the Church of Jesus Christ of Latter-day Saints. Over 40 teachers attended and enjoyed a BBQ dinner and dessert while spending time with their students.
"It was a privilege for us to host so many excellent Lewisville ISD teachers. It gives us a chance to recognize each year the incredible contribution they made in the lives of our youth," said Joe Elmer, bishop of a Flower Mound Church of Jesus Christ of Latter-day Saints congregation, who spoke at the event.
"While it is difficult for them to see the long-term impact that they have, the influence of wonderful teachers permeates the lives of students far into the future."
While many invited classroom teachers, others invited coaches, music teachers, and even principals. Eighth-grader Preston Vandermyde invited Shadow Ridge Principal Gary Gibson to the dinner.
"He's a really nice principal and if you ask him, he will pretty much help you with anything." Preston said of Mr. Gibson who is principal of over 700 students. "He is kind of like your friend."
"We are so grateful for dedicated teachers that help reinforce the important values we try and teach in our homes," Elmer said.
This is the 10th year the dinner and social event has celebrated teachers in the local community.