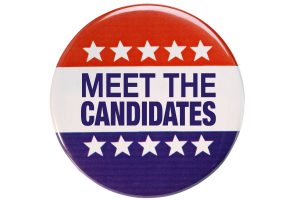 The Cross Timbers Gazette asked each candidate in a contested race to answer a brief questionnaire to help voters make an informed decision at the polls this May. Election Day is Saturday, May 6, with early voting beginning Monday, April 24 running through Tuesday, May 2.
This marks the first election in several years with multiple school board candidates vying for the two open seats in the Denton ISD.
The candidates are listed in alphabetic order.
Denton ISD Place 6
Jim R. Alexander, 70
The main issues facing your district and how you would resolve them:  Denton ISD must be prepared to meet the continuing challenges of rapid growth in student population, while being fiscally responsible to its taxpayers and simultaneously offering the highest quality education possible for every student in each region of our district.  Strong, effective and experienced board leadership is essential.
Why voters should re-elect you: Strong qualifications and proven experience allow me to contribute to the stable leadership required to meet the challenges we face and achieve excellence for each school and our almost 30,000 students experiences success on an individual and personal basis.  We must always remember that our students are our future and our community's most important asset.
Current Occupation: Professor Emeritus of Government and Director at Texas Woman's University of the Law Enforcement Management Institute of Texas
Education: Ph.D., School of Government and Public Administration, The American University; MA and BA, Government and Business Administration, Texas A&M, Commerce; AA, North Central Texas College
Current Civic Involvement: Member and Current Secretary of Denton ISD Board of Trustees
Past Civic Service: President, North Central Texas Council of Governments; Executive Board, North Central Texas Council of Governments; Member, Denton City Council; and, Member, Governor's Criminal Justice Advisory Council
Have you ever been arrested or involved in any criminal proceedings or civil suits: No
Additional Comments: I am personally grateful to the voters for the privilege and honor of serving as your Trustee. I take this responsibility seriously and work daily to provide leadership focusing on exceptional governance for our district and academic achievement and personal growth for each of our students.  
Website: jimalexanderdenton.com
Facebook: www.facebook.com/JimAlexanderDenton
Alfredo Sanchez, 65
The main issues facing your district and how you would resolve them: No response 
Why voters should elect you: Public education is the foundation of our democracy and is under attack by the State legislature. The legislature has failed to provide adequate funding for our public education. Parent involvement in both the school and voting is critical to providing students a better education. I intend to bring more parent involvement in school.
Current occupation:  Retired from the USDA of Agriculture: Animal Plant Health Inspection Service—worked as Animal Plant Health Inspection Officer; U.S. Forest Service—District Wildlife Biologist Caddo/LBJ Grasslands
Education: Bachelor of Science Degree with a Major in Wildlife Management with a double minor in Botany and Zoology.  
Current civic service: Have been president of the League of United Latin American Citizens (LULAC).  Worked with the President of the NAACP, Willie Hudspeth, to bring NAACP and LULAC to work together.  Current member of LULAC. Instrumental in creating Kids First Program in the Denton Public School (instructs 9th graders to defuse encounters with policemen in order to reduce fatalities of young people).  Voter Registrar for several years: primary voter registration done at TWU, NCTC and UNT, (passion is to get young people registered and to vote because they will inherit this country). Have served as Precinct chair for several years. Served as an Election Judge and Alternate Judge during elections for several years. Operate a single family dwelling whose tenants are formerly homeless working males; Consulted by the City establishing Boarding House zone ordinance; Member of the Immaculate Conception Catholic Church. I taught religious education there for several years. Member of the Mayor's Together Coalition;  Member of Latino Democrats of Denton County; Editor and distributor for Nuestra Voz newspaper in Denton; Co-Founder of the Committee to oppose the Tax Freeze for Seniors and the disabled in the City of  Denton. This tax freeze will benefit wealthy home owners and shift the tax burden to those under 65, many of whom are struggling from month to month. We will vote on this issue on May 6, 2017.
Past civic service: Attended the Denton Citizens Police Academy. Have been a volunteer for Monsignor King Homeless Shelter.
Have you ever been arrested or involved in any criminal proceedings or civil suits: No
Additional Comments: wife, Prudence Sanchez, Attorney at Law; married 35 years; four adult children and four grandchildren; property investor and remodel homes. Philosophy: Within you is the compass of right, follow it and be successful. To those that much has been given, much will be expected. It is best to fail than never to have tried. Failure is temporary.
Facebook: www.facebook.com/alfpru65