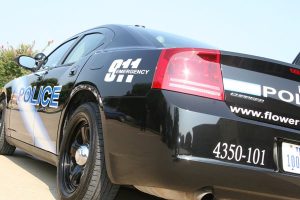 It was a busy holiday weekend for police in Flower Mound as residents found their vehicles stolen or broken into.
"We've had 7 stolen vehicles and 10 burglaries of vehicles in the last three days," said Wess Griffin, Flower Mound Police Department's Public Information Officer. "Two vehicles have been recovered so far and… in NONE of these cases has there been any sign whatsoever of forced entry."
Vehicle thefts were reported at the following locations:
2100 block Starlight Trail – 2012 Chevrolet Cruz (suspect opened the unlocked door to another vehicle and took the keys to the Cruz)
3200 block Marquette Drive – 2004 GMC Yukon and 2015 GMC Sierra (all unlocked with keys inside)
1800 block Foxborough Trail – 2013 Ford F150 (unlocked, keys left in the tool box for employees-lawn company truck). Truck was later recovered.
1800 block Honey Mesquite Lane – 2017 Ford Expedition (unlocked with key fob inside)
1900 block Woodland Blvd – 2014 Toyota Camry (lease keys in possession except for the valet key in the glove compartment). Car was later recovered.
4900 block Lipizzaner Drive – 2001 Toyota Camry (unlocked with keys in the center console cup holder)
One resident that lives off of Simmons Road posted about her experience on Facebook: "I started out my morning by walking outside to go to work only to find out my car had been stolen right from my driveway!  So just wanted to give a friendly reminder to everyone to be cautious and keep your keys inside your house because mine were inside my boyfriend's car and his car was locked but they obviously broke into his car and then stole my car. Also the cop said they're going into people's cars and stealing garage door openers and then stealing cars that way too."
Griffin said on Monday morning that his department is in the process of assigning the offense reports to detectives.
Anyone with  information on the crimes is encouraged to call the FMPD non-emergency line at 972.539.0525, which is answered 24 hours a day.  Callers can also call the Crime Tip Line at 972.874.3307 to leave an anonymous message.
Check back for updates.