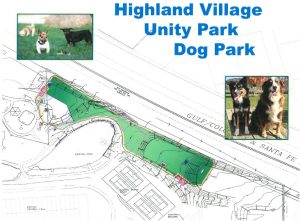 Area dog owners will have a new place to tire out their pooches.
A ribbon cutting will be held on Friday, April 14, at 10 a.m. to officially open the Unity Dog Park in Highland Village.
The 1.5 acre dog park, located on the northeast portion of Unity Park, will feature two separate fenced areas – one for small dogs and one for large dogs.
Highland Village dog owners had been using a fenced area behind McAuliffe Elementary School as an off-leash area for dogs. When the Lewisville Independent School District closed the area, users of the spot came to the city to fill the need.
The former soccer fields at Unity Park that were relocated to the new Doubletree Ranch Park were identified by city leaders as a good spot for the dog park.
Unity Dog Park is located at 2200 Briarhill Boulevard.