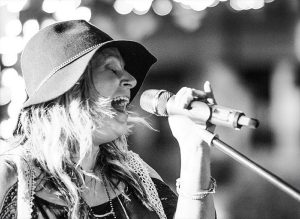 A great crowd turned out for the return of the Lakeside Music Series last Friday to see Sebastian Valenzuela.
This week, Chaz Marie-Hope and husband Quinten Hope bring their soulful country, R&B, Delta blues, and rock 'n roll to plaza in The Shops at Lakeside, 2314 Lakeside Parkway in Flower Mound.
Dubbed the "Hillbilly Arethra," Chaz delivers a fresh and soulful alternative to the formulaic country artists. Expect some moving (as in get up and dance) covers plus tunes from Chaz's EP.
The Plano-based artist has worked with many of the music industry's finest: from Brian McKnight, Kenny Rogers, LeAnn Rimes, Michael McDonald and Wynonna to Lonestar, Joe Nichols, Steve Azar, JoDee Messina, Richard Marx, and The Temptations. For more on Chaz, click here.
For the foreseeable future, no food trucks will be present for the Lakeside Music Series, so plan to take in a meal ahead of the performance at one of Lakeside's eateries.
Carvao Prime Brazilian Steakhouse offers a Happy Hour from 5 to 7 p.m. on Friday nights.
Mio Nonno Trattoria's patio faces the plaza where the musicians perform and Paradise Bistro & Coffee Co. where you can sit on the patio in cushy seating.
Don't forget to drop by Epic Gelato for dessert.
For a complete list of upcoming performers for April and May, click here.
If you don't plan to dine at a Lakeside establishment, bring a blanket or portable chairs to the plaza to sit back and relax.
Mio Nonno will serve as the rain-out location so — rain or shine — the show will go on.