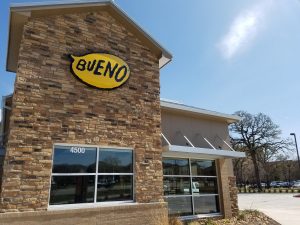 During the March 6 Town Council meeting, it was revealed that the new, much-anticipated Taco Bueno restaurant on Long Prairie will open the week of March 20.
Hungry drivers have looked at the finished building and questioned: "Why isn't it open?"
Yes, you can even drive into the parking lot, but this restaurant has a drive-thru lane. Unless all the cement is poured—and dry—the doors can't open.
In other words, little things are still being "tweaked."
Mayor Tom Hayden also announced that the developers of The River Walk, Centurion American, will be holding an official launch of the river and all its water amenities with an open house in mid- to late-April.
The open house will include such possible features as food and music, plus tours of the area.
In addition, Hayden informed the public that a claim by a candidate for council that Centurion American was being investigated by the FBI and IRS was not factual.
"Centurion American was asked to provide a statement to the IRS about a Wisconsin company about whether some bonds were taxable or non-taxable," said Hayden.
He added that the FBI had also asked Centurion American to provide information pertaining to another business, but Centurion American is not being investigated by the FBI.