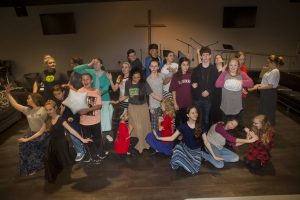 While Flower Mound schools feature outstanding theater arts programs during the academic school year, there're few places in the area where children can learn about theatre outside school walls. Tyler Hutchinson hopes to change that equation.
The 23-year-old Lewisville resident is the founder and artistic director of the Christian Youth Theater of Dallas-Fort Worth, which bills itself as the largest after-school theater arts training program in the nation. Hutchinson, previously artistic director of the CYT in Indianapolis, Ind., started the DFW affiliate in October 2015.
CYT is an educational non-profit organization that offers summer camps and fall, winter and spring classes aimed at youth ages 4-18. Each camp culminates in a Broadway-style musical production for those students 8- to 18-years-old. Participants don't have to be Christian to be involved.
"In fact, we have multiple denominations of beliefs in the organization right now," Hutchinson said. "We've got Muslims and even some atheists. We're not a church. We don't want to push them in any direction. We believe in loving God and loving people."
It's also about family and learning through Judeo-Christian values, while building character in students and adults.
"That's the skill development of what we do whether it be dance, music, acting or whatever," he said. "The skill activation part of it is the production shows, including behind-the-scenes stuff."
The DFW group's first camps were held this past summer at Flower Mound's Parker Square, with initial classes at area churches. Its first production– "Into the Woods Jr." – is scheduled the weekends of Feb. 10-12 and 17-18 at the Medical Center of Lewisville Grand Theater at 100 N. Charles St. in Lewisville.
Hutchinson first joined CYT five years ago in his native Indianapolis as a class instructor; then moved to a contract director, interim artistic director and artistic director. He's also taught workshops at the organization's national leadership conference and other affiliates.
He was working as an event planner for the film "8 Days" in South Africa, when he felt called to move to North Texas. That was in the summer of 2015. When Hutchinson realized there was no current DFW affiliate, he used his connections to the national organization, and some of his personal money, to get the ball rolling.
"It takes a lot of work," he said. "And it takes a lot of money, because there are a lot of legal things. It's almost $1,000 to become a 501 (c)(3). I think our IRS application was $850. It took a lot of raising money, but most of all raising awareness of who we are.
"There's a lot of theater here and it's not like we're this fresh, new thing," he said. "So, we needed to let people know who we were."
Hutchinson's attempt to bring after-school theatre is the fourth attempt in the past 10 years.
First, he formed a steering committee, after talking to those who previously tried to form a DFW affiliate.
Next, he created an interim board of directors focused on the legal issues.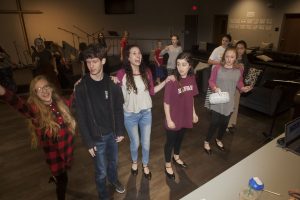 In early 2016, he started holding interest meetings to promote three weeks of summer camps at Parker Square. Approximately 30 students– primarily from Southern Denton County, but also from as far away as Plano and Fort Worth– attended each session. Some had been involved in CYT affiliates elsewhere in the country.
Hutchinson quickly learned about the popularity of school sports when only 11 students signed up for his fall classes. Because of the low numbers and being so new, he decided not to conduct a production show afterwards.
But, with 34 students in the winter classes, 27 will perform in "Into the Woods Jr."
The musical centers on a baker and his wife, who wish to have a child; Cinderella, who wishes to attend the King's festival; and Jack, who wishes his cow would give milk. When the baker and his wife learn that they cannot have a child because of a witch's curse, the two set off on a journey to break the curse and wind up changed forever.
"Into the Woods Jr. features all of your favorite characters – Cinderella, Little Red Riding Hood, Jack (and his beanstalk) and the Witch in this lyrically-rich retelling of classic Brothers Grimm fables.
"We originally picked 'The Legend of Pocahontas' actually, but we didn't have enough boys," Hutchinson said. "We decided on 'Into the Woods Jr.' We're doing something that I've never seen before in that the production is done entirely in black and white and a little gray in there, too."
While the DFW affiliate currently has no home, it does practice at Flower Mound's Lamb of God Church, across from Parker Square. Hutchinson's long-range goal is to headquarter in Flower Mound.
"We would like to be THE theater of Flower Mound," said Hutchinson, who also works as a talent scout for Actors, Models and Talent for Christ, based at Parker Square. "We want to have a place where other theater companies can rent our facilities in Flower Mound.
"We really want a place to call home and we're constantly looking for donors and people who believe in our mission; not just to see us flourish, but Flower Mound flourish. We want people to say 'hey, we really do want a theater here.'
"We've really focused on Flower Mound, including talking to the Flower Mound Parks and Rec about getting classes in their programs and becoming their drama source."
Achieving that dream will take plenty of money from local and area sources, since the DFW group receives no funding from the national CYT organization. Fees for summer camps and winter, spring and fall classes, as well as productions also provides funding to help pay the freelance adult teachers and directors.
After "Into the Woods," Hutchinson will concentrate on spring classes and the ensuing show to be announced later, plus continuing to promote his group.
"We're all about hard work," he said. "We're all about putting on great shows. We really want to expand, so we can get revenues; so we can start to look at our own place and have a quality place, too."
Tickets are $13 in advance and $14 at the door.
Performances on Fridays, Feb. 10 and 17 are at 7 p.m.; on Saturdays, Feb. 11 and 18 at 2 and 7 p.m.; and, Sunday, Feb. 12 at 2 p.m.
For more information and to purchase tickets, visit: www.cytdallas.org.