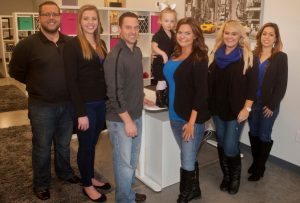 Courtney McManis so missed helping clients with their insurance needs she gave up a promising management job. Judging from her early success, she's happy she did.
The McManis Agency representing Farmers Insurance opened in September in Lantana Town Center, just a two-minute commute from her new home in Lantana. After driving up to an hour from her former home in Prosper to her previous job in Allen, she now has plenty of time to personally meet with her clients.
It's that personal service that prompted her job change after helping other agents succeed at the tail end of her 10 years with State Farm and the beginning of her tenure with Farmers.
"I'm able to take the experience from my previous roles in insurance and hone those skills to offer my new clients unmatched products and service," she said.
"We help market other small community businesses who in turn refer The McManis Agency to their customers," McManis said.
She chose the Lantana/Bartonville area to be closer to her husband's family who watch 18-month-old daughter Scarlett.
"I love this area," McManis said. "The schools are great here. I wanted her to grow up in this community."
The Niantic, Illinois, native later lived in nearby Bloomington, then Milwaukee and Seattle before moving to Texas her junior year of high school. After graduating from Southlake Carroll in 2003, she attended Texas Tech University where she graduated in 2007 with a degree in personal financial planning.
State Farm recruited her at a job fair while a student in Lubbock. She interned with State Farm while in college, then worked for an agent for three years before opening her own office in Allen ahead of the changes that led to her current agency.