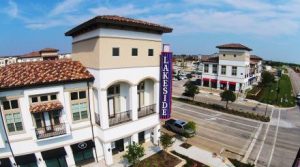 The Lakeside DFW development will be the location for three new restaurants early in 2017.
During the Dec. 19 Flower Mound Town Council meeting, Town Manager Jimmy Stathatos was excited to announce that the Mio Nonno Italian restaurant is set to open at the end of January. Mio Nonno will be located across Lakeside Parkway from Paradise Bistro.
In addition, he unveiled the name of the new Asian-fusion restaurant also set to open in Lakeside DFW, Hanaya Hibachi & Sushi, which is owned by the same person who owns Kobeya Japanese Steak & Sushi in Southlake Town Square.
"It's not their first rodeo, but it's exciting to announce, because people are familiar with that [Kobeya] restaurant," said Stathatos.
Finally, Milwaukee Joe's Gourmet Ice Cream is a family-owned shop opened originally in Fort Worth in 1995. The creamery, now located in Colleyville, makes classic flavors and a flavor-of-the-day, plus cakes and pies that will be available at its new location next to Starbucks in Lakeside DFW.
Also, making progress is the Condo Tower in Lakeside DFW. Some grading has already been completed in anticipation of its end-of-year building permit.