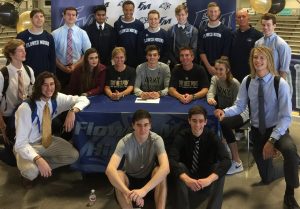 The Scully's are a patriotic family.
That is why it came as great news when Flower Mound High School senior Johnny Scully committed to play basketball at West Point next school year.
The Jaguars senior point guard said he decided to attend the military academy for two major reasons.
"I wanted to attend West Point primarily to further my basketball career, but also the education and experience gained," Scully said. "They are incomparable to any other school in the country.  It feels very special to commit to the Academy, it's an honor to be a part of something like this."
He recently took a tour of the West Point campus on the Hudson and described his experience as "amazing."
"Seeing a day in the life of a cadet was very exciting," Scully said. "The campus is absolutely beautiful and the huge, stone, castle-like buildings are spectacular.  Seeing the traditions and history at West Point was very special."
If the name Scully sounds familiar, it should.
His father, John Scully, is noted for running in Flower Mound each Sept. 11 with an American flag, a tradition he started after running the Philadelphia Half Marathon shortly after the events of 9/11.
"I am a former firefighter and so I also felt a further sadness for all of the first responders who perished that day as well," the elder Scully said. "I have run on 9/11 every year here in Flower Mound; 13 Miles to honor the fallen. Three years ago, Mayor Tom Hayden asked me to put together a run to honor veterans on Veterans Day and with the help of a lot of great people in town we put together a relay run covering all the schools in town.
"We start at 9 a.m. and end at 5 p.m. and the event really shows our pride and appreciation for our veterans."
Although he has never himself served, several family members and friends have. He added that he has the utmost respect for the military and said he and his wife, Trish, are both very proud of their son.
"My wife and I were excited when West Point started to recruit Johnny to attend and play basketball, but words cannot describe how we felt after visiting there a few weeks back on his official visit weekend," Scully said.
"West Point is a beautiful place, and you can feel the tremendous honor and tradition as you walk around the campus. We are so proud of his commitment [to go] there and to have an opportunity to play basketball for a great coach and staff at the Division I level. Beyond our pride for him to play basketball there, we are going to feel a bigger sense of joy and pride for his journey to serve our country."
Asked what his plans are after attending West Point and completing his five years of military service, Scully said he has more immediate concerns at the moment.
"My main goal for this senior season is to win our district," he said. "It's never been done at Flower Mound and it would be a great accomplishment to be the first."
Johnny Scully signed with West Point on Nov. 15 at Flower Mound High School.