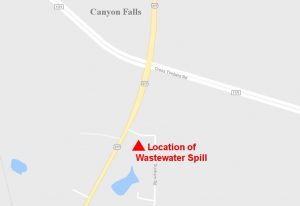 Trinity River Authority officials are investigating a wastewater spill that occurred Tuesday in west Flower Mound.
A discharge line within the Denton Creek Regional Wastewater System experienced an outflow of more than 100,000 gallons of treated wastewater, known as effluent, on Tuesday around 1:45 p.m., according to a press release issued by the TRA.
The incident, caused by a pipeline failure, occurred in a field south of the Hwy 377 and Dunham Road intersection.
No public drinking water supplies were threatened or contaminated and there was no danger to human health or the environment, according to the TRA.
All wastewater spills in excess of 100,000 gallons must be reported to Texas Commission on Environmental Quality, the public and other designated public officials.
The final estimated quantity of the effluent spill will be reported to the TCEQ.