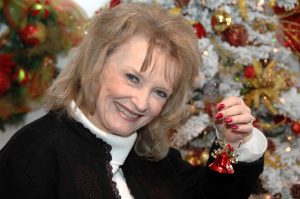 To celebrate the 70th Anniversary of the beloved Christmas movie, "It's A Wonderful Life," the Moviehouse & Eatery– Flower Mound, will present four showings on the big screen. And, as special as that will be, the true highlight will be personal appearances by the exceptional actress who played the memorable Zuzu Bailey with her fallen flower petals—Karolyn Grimes.
A native of Hollywood, Grimes' childhood film career spanned 16 movies, but she is best-remembered for playing the youngest daughter of George and Mary Bailey (James Stewart and Donna Reed), Zuzu, when the actress was only age 6.
The fallen petals from Zuzu's rose symbolize the values of family, friends and life itself in the 1946 classic movie. And, it is Zuzu who speaks the movie's most memorable line at the end: "Every time a bell rings, an angel gets his wings."
In recent years, Grimes has carried on the spirit of "It's A Wonderful Life," serving as the film's most active and appealing ambassador.
"It all started back in 1993 when Target chose the film as the basis for their annual Christmas marketing theme," said Grimes. "That got the reunion of the 'Bailey kids' started. Doing public appearances—both nationally and internationally—has become pretty much a year-long 'gig;' although that increases the closer to Christmas it gets."
She added that sometimes the other two living Bailey kids actors: Jimmy Hawkins [oldest son, Tommy]; and Carol Coombs [older daughter, Janie] will still reunite at same-date appearances, when all their schedules allow. [Larry Simms, youngest son, Pete, died in 2009.]
"I'm very much looking forward to my Texas visits," said Grimes in a phone interview. "Over the years, I've heard from a large number of fans of the movie and I've met and become friends with a number of people in Texas."
One of her Texas friends, for the past 20-years, is Flower Mound resident, Lee Leibold. He's worked in the toy, craft and hobby industries for the past 35-years and met Grimes at a convention, when he asked for her autograph for his ever-growing collection.
"Over the years, I've thought about having Karolyn do a personal appearance for the film and the 70th anniversary seemed like a perfect time," said Leibold. "I'd heard that Paramount Pictures no longer had the license for the film and went ahead to arrange for Karolyn to come for personal appearances. Unfortunately, I learned that Paramount still holds the rights and gets a 35-percent 'take' of house sales—even if we were to give the tickets away, the studio would get 35-percent of what the box office would be, so that's when we went in with her other Texas appearances through the Moviehouse & Eatery group."
"My mom took me to meet a [talent] agent when I was four and he liked me; that's how I got started," said Grimes, who appeared in 16 films when young, including another holiday favorite, "The Bishop's Wife," as the daughter of the Bishop [actor David Niven] and his wife [Loretta Young] and an angel [Cary Grant].
"Cary Grant was my second favorite actor to work with, after Jimmy Stewart," said Grimes. "Cary Grant loved children and I think he was an extremely bright man; very intelligent and I think he probably had a photographic memory. I never saw him with a script in his hand and he knew every line. He was very kind to me and always paid attention to me."
Working with Jimmy Stewart in her role of Zuzu was her favorite experience.
"He was a wonderful man; a real hero in life in World War II and later with his charity golf event, he left a legacy of helping his fellow man," she said. "He was very patient with me, always. He was a wonderful fellow."
Director Frank Capra said "It's A Wonderful Life" was his favorite movie, too. The timing of shooting the Christmas movie was also memorable.
"We shot from April to July and Hollywood was in the middle of a heat wave," Grimes said. "Some of the days were up in the 90's, so there was a lot of night filming, because of the snow. I hadn't seen real snow yet, so it was all make-believe for me anyway."
Another favorite actor she worked with was John Wayne in "Rio Grande," directed by John Ford.
"He had a big, booming voice and he loved to play cards," said Grimes. "We shot during a school break, so he had his kids with him. We all stayed at the same hotel and I got to play with his son, Patrick, who was a lot of fun. John Wayne just treated me like one of his kids."
When she began acting at four-years-old, her mother would read the lines for her and help her memorize them. Among the other actors she worked with included Bing Crosby, Fred MacMurray and Betty Grable.
But, her acting career in Hollywood ended when she was a teen and her parents died. She was sent to live with an aunt and eventually worked as a medical technician.
These days, Grimes and her husband live in Seattle and travel the world speaking at film screenings, benefits, corporations, conventions and churches. She has worked with Habitat for Humanity, Cancer Research, Hospice, Parkinson Disease, March of Dimes and many other organizations that touch people's lives.
By sharing the stories of her own personal struggles and adversity in her own life, she is able to provide inspiration. A talented and published writer, she has a brand new children's book, "Zuzu's Petals," that she'll feature along with other merchandise for sale at her personal appearance.
"I know how much this movie means to people; and, to me, too," said Grimes. She still has an angel ornament from the Christmas tree in the movie.  Those attending the 70th Anniversary event are welcome to bring "It's A Wonderful Life" memorabilia, which Grimes will sign for a $10 per item charge.
"People used to bring shopping bags full of things, but all that time meant I didn't get to meet everyone and I didn't like disappointing people who'd been kind enough to come; that's why there's a charge to help limit the items," she explained.
All four movie showings in Flower Mound are sold out, but there may be a few tickets left for the showings at the Keller location this weekend, where Grimes will also appear.