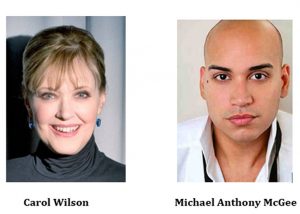 When William Walton's Façade was first performed in 1923, the press described it as "a scandal."  One publication claimed it was "drivel that they paid to hear" but another said it "induced the audience to listen with breathless attention."
The Lewisville Lake Symphony will perform the work on Friday, November 4, under the baton of Adron Ming, Music Director and Conductor, using six instrumentalists and two narrators.
"Façade is a series of 21 poems by Edith Sitwell that are recited over an instrumental accompaniment by William Walton," said Ming.  "It is a fascinating and riveting work that is heavily jazz-influenced.  We will use two narrators to inject variety in the performance and to spread the difficult load.  These are not easy to perform."
Carol Wilson, an American operatic soprano who is particularly admired for her interpretations of the works of Mozart, Strauss, and Wagner, will serve as one of the narrators.  The other is Michael Anthony McGee, a baritone hailed by Opera News as possessing "a sturdy baritone and terrific swagger with equal portions of …power and …subtlety."
The concert will be held at the MCL Grand Theater in Lewisville on Nov. 4 at 7:30 pm.  Information and tickets can be found at www.lewisvillesymphony.com.