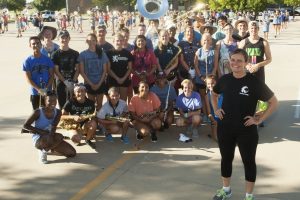 "I came to Double Oak with my family in 1988," said Guyer High School's Band Director Amy Woody.  With the exception of college years at Baylor University and the prestigious Eastman School of Music, she has been anchored in southern Denton County for the last 28 years.
"I signed up to play the clarinet in the Lamar Middle School band program," she said after starting piano lessons as a first grader. From Lamar, it was on to the Marcus High School marching band and graduation in 2001.
She received a Bachelor's degree in Music Education from Baylor four years later, then completed a clarinet performance Master's Degree from Eastman in Rochester, N.Y.
"At the end of the Master's I realized life on the road as a performer wasn't what I wanted to do," Woody said.  "I came back home and put my Music Ed diploma to work when Denton ISD hired me as an Assistant Band Director at Guyer."  The school was only two years old at that time.
Six years later, she became the Director of the Wildcat band and has been leading the department ever since.  She agrees with Ludwig von Beethoven's passionate comment that: "Music is the electric soil in which the spirit lives, thinks and invents."
"Our original 80-musician group has grown to include 175 students this school year," she said.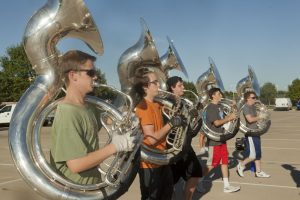 A "band" uses mainly tube brasses (think trombones, trumpets and the like), conical brasses (like tubas and various 'phones and so on), reeds (such as clarinets and saxophones), and woodwinds (those wood body instruments like oboes and bassoons played through a small metal pipe).
Most bands have a percussion section that can include—but, is not limited to– an array of drums, marimbas, keyboards, triangles, cymbals, gongs and electric guitars.
Have you ever heard a theremin?  It's a sci-fi-looking early electronic musical instrument "played" without any physical contact to produce spooky sounds for Halloween or horror movies.
Bands can be large or small and– when combined with a string instrument ensemble– become an "orchestra." The Denton ISD sponsors separate band and string instrument programs.  String instrument instruction is called the district's "orchestra" department.
One talented Guyer student, Samuel Bailey, lives in the Lantana area.  In the 9th grade he played violin in the orchestra and guitar in the jazz band.  The next year he wanted to march with the Wildcats, so he took up the saxophone.
His mother, Sheela Bailey, owner of Grapevine's popular British Emporium, is an enthusiastic Guyer band and orchestra booster.
"At home he's our one-man band," she said with reference to his other musical loves that include the harmonica, drums, and keyboard.  His sights are set on a chair in the world-famous One O'Clock Jazz Band at the University of North Texas.
If you think only violins play softly, you haven't listened to enough band performances.
"On the football field or in a parade, a band has to play at top volume, but on an indoor stage the sound dynamics are different," Woody said. "That requires control and a lot of practice to finesse the volume produced by each player and the whole group."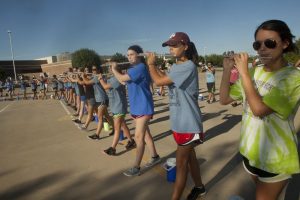 Did you know that on a football field, the sounds created by performers in front of the moving band reach ears in the middle and back sections at different times?  The marchers synchronize their playing by listening to the music directly around them, rather than what they think is being played up front.
"A lot of learning and practice goes into a successful marching performance," because the musical show also includes athletic and dance moves each player has to master with exactness for a good visual effect," Woody said, "We call the whole thing a band's pageantry."
To pull this off, the department annually holds a five-week freshman summer camp; along with color guard, percussion and band leadership camps.
"Band faculty members are at school nearly year round," said Woody.
Guyer students have played twice at New York City's Carnegie Hall. They've also received terrific scores and honors from various University Interscholastic League (UIL) and Texas Music Educators Association (TMEA) contests.
UIL sponsors marching, sight reading, solo and group competition opportunities for Texas band students statewide.
As a matter of fact, this year's Region II marching contest will be held on Saturday, Oct. 22 at the Northwest ISD stadium, off Hwy 114 near the Texas Motor Speedway.
Flower Mound, Marcus and Hebron High School bands all give Guyer real competition for a berth in the Area contest, which will be held in Mesquite later this year.  The winners there will go to UIL band All State in the spring.  Check guyerband.org for details.
The TMEA divides the state into educational regions and selects All State players from each region for its prestigious band, orchestra and choir groups that perform at the annual convention in Austin.
"Guyer's region is filled with hard-working students," said Woody. "Our band members have to hustle to excel in UIL and TMEA contests."
And, the district does not give music students a pass on academic matters.  Failing grades on that front bar participating in shows and contests.
"We had a fabulous year in 2016, with [level] 2 band, 5 orchestra and 2 choir All State students," she said.
Historically, the military has given birth to marching bands.  John Philip Sousa transferred that feel and sound to his concert bands; and, he invented several instruments–including the Sousaphone–to produce new band sounds.
Today bands perform on the field in one of three marching styles: corps, military and show.
"A corps-style performance is thematic and geometric," explained Woody. "Military is marching-to-the-battlefield linear and show-style features choreography. Students do not own their uniforms which works out because they're still growing and will wear one size as a ninth-grader and another their senior year."
The pants are "bibbers," like ski pants, which allows different length jackets.  There are gloves and gauntlets, hats and plumes.  Special rubber-sole band shoes are the only student-owned part of the uniform; they enable young feet to do what's required.
"The uniform design and production process takes about two years," Amy said, "and the district purchases new uniforms about every 10-years."  Small school districts are the resale market for used uniforms, which are not allowed to go to waste.
The Guyer Wildcat marching uniform is all black with blue and silver accents.  It's very snappy.  See it online.
"We wear black gowns and tuxedos, regular concert wear, when we play indoors."
Personnel involved in the Guyer band program with Woody include the district's Fine Arts Administrator and her two Assistant Directors—brass instructor Tyler Brinkman and Ellis Hampton, the percussion instructor.
"We have private lesson teachers and part-time staff who teach the dance team and other aspects of our program," said Woody.
This year's UIL marching show is titled "Beyond the Frame" meaning the frame of action on an old motion picture reel.  The band brings six different vignettes to life with music and pageantry and evocative photographs that will appear on big screens behind the band and its dance team.
"We will be performing band arrangements of Bach's Toccata and Fugue, Tchaikovsky's Dance of the Sugar Plum Fairy, Shostakovich's Piano Concerto #2, Dukas' Sorcerer's Apprentice, Saint-Saen's Carnival of the Animals and Stravinsky's Firebird Suite."
 This is one show you won't want to miss.  If your child will be entering a Denton ISD middle school, band is an elective class; and, seeing the show could help his/her decision-making process.
Woody summed it up this way:  "High school band is a rewarding student experience arising from hard work, as opposed to instant gratification.  It's something the students and faculty accomplish together.  The show is wonderful, but can't possibly convey the hard work, sweat, and effort each child had to contribute to the successful whole."