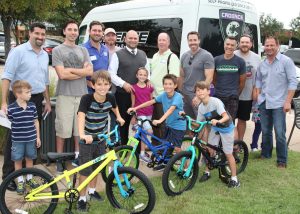 A group of Lantana dads wasted no time after discovering a need in their community.
After hearing that bicycles belonging to the Moody family's three boys were stolen off their front porch last Tuesday, the dads immediately began their mission to replace the bikes.
"At first we started asking around for used bikes, but after looking at some of them, we said forget that. One of our dads, Ryan Williams, called Cadence Cyclery and set up a PayPal account," said Jimmy Bridges, who lives across the street from the Moody's.
They quickly raised over $600 and bought three new bicycles with the help of a generous discount from the Highland Village bike shop.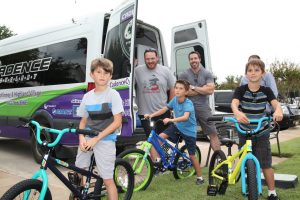 Bob Schmalholz with Cadence Cyclery delivered the bikes to the unsuspecting boys on Thursday afternoon at the Lantana Gazebo as the dads looked on.
Brett Moody, a two-year Lantana resident, said his boys, age 10 and 8 year-old twins, were thrilled and he was humbled by his neighbors' generosity.