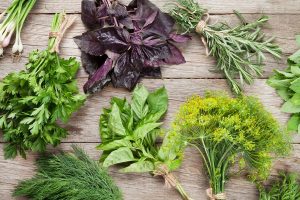 by Courtney Davis, Denton County Extension Agent – Family & Consumer Sciences
The heat of the summer is upon us and hopefully you thought ahead to plant and grow your own herbs.  Herbs are a great way to flavor food without adding salt or fat to a dish.  Herbs are fragrant leaves of low-growing shrubs that grow in temperate climates.  Examples of herbs are parsley, chives, thyme, basil, dill, oregano, rosemary, sage and celery leaves.  Herbs can be used fresh or dried.  Dried forms may be whole, crushed, or ground.
Growing Herbs
Herbs don't take much room to grow and are generally low-maintenance plants.  Also, because herbs are used in small amounts, only a few plants are usually needed to provide enough fresh and dried herbs for an entire season.  Herbs can be grown in flower beds, in rock gardens as borders, or as corner plantings.  Care for your herb garden as you would a vegetable or flower garden.  Choose a sunny, well-drained location.  Apply a balanced fertilizer but do not use too much nitrogen fertilizer.  Water the herbs as necessary during dry periods; generally, about 1 inch of water should be added per week.  Adding mulch can help to keep the soil moist and reduce weed growth.  Mint likes moist soil so it may need to be watered more often.  Also, keeping your mint in a pot will help keep it from spreading.
Some herbs can be planted in pots and grown indoors.  Those best adapted to growing in pots are basil, chives, mint, parsley, rosemary, and sweet marjoram.  Set these pots in a sunny south window and care for them as you would houseplants.
Cooking With Herbs
Pick fresh herbs early in the morning before it gets too hot.  Always wash fresh herbs before cooking with them.  Rinse them under cool, running water or place in a colander and wash thoroughly.  If you are using herbs with woody stems, strip off the leaves and discard the stems.  You should also discard any damaged leaves you may find on fresh herbs.  The stems of herbs may be used for flavor if they are soft and pliable, such as that of cilantro.
To release more flavor and aroma, crumble dry, leafy herbs such as basil or oregano between your fingers or finely chop fresh herbs. The amount of spice or herb you add to a food varies greatly.  A general rule it to start with only one or two herbs and spices at a time and add more if necessary.  Also, keep this equation in mind: 1 tablespoon fresh, finely cut herbs = 1 teaspoon crumbled, dried herbs = ¼ to ½ teaspoon ground, dried herbs
Begin with ¼ teaspoon of most ground spices or ground, dried herbs for every pound of meat or pint of soup or sauce.  Add additional herbs and spices if needed.  Remember to use more herbs if you're using a crumbled dried or fresh form.  Red pepper will intensify in flavor during the cooking process.  Start with 1/8 teaspoon of cayenne pepper and add more in small increments.
When doubling a recipe, do not double the amount of spices and herbs.  It's always easier to add more of a spice or herb, if needed, but it is difficult to adjust a recipe if you've added too much.
Add fresh herbs near the end of the cooking process or just before serving as prolonged heating can cause flavor loss.  Delicate fresh herbs can be added a minute or two before the end of cooking or sprinkled on food before serving.  Some examples of delicate herbs include basil, chives, cilantro, dill, parsley, marjoram and mint.  Some of the less delicate fresh herbs include rosemary, tarragon and thyme.  For uncooked or chilled foods such as salads and dips, add seasonings several hours ahead so flavors blend.
Here's a recipe for one of my favorite summer dishes.  It's quick, easy and delicious!
Caprese Salad
1 tomato, sliced
1 block of part-skim mozzarella cheese
Chopped fresh basil
Salt and pepper to taste
Olive Oil
Balsamic Vinegar
Slice the tomato and spread the slices on a plate/platter.  Top each tomato slice with a thin slice of mozzarella cheese.  Sprinkle basil over each slice and season with salt and pepper.  Drizzle a small amount of extra virgin olive oil and balsamic vinegar over each tomato and enjoy!
*Also try making Caprese Salad Skewers…use cherry tomatoes left whole, ¼ inch blocked mozzarella cheese (I've used sliced string cheese) and whole fresh basil leaves layered on toothpicks.  Season as above.  These are great for parties or for serving large crowds!
For more information on growing fresh herbs or on cooking with fresh herbs and spices, contact the Denton County Extension Office at 940-349-2882 or email Courtney Davis at [email protected].