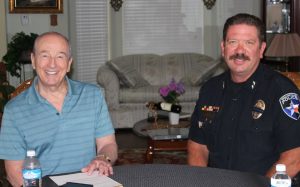 I'm sure there are other great places to live across this marvelous country, but I think you'd be hard pressed to find one in which residents are more involved in their communities and in helping their neighbors than we have here in North Texas. From child advocacy, to homeless shelters, to natural disaster aid, we are second to none when it comes to being there when assistance is needed. Following that tradition of fundraising for those in need we have a local benefit coming up on Saturday, September 10, at the Circle R Ranch in Flower Mound.
Special Olympics Texas, a certified 501(c) (3) nonprofit organization, provides year-round sports training and athletic competition for over 55,000 children and adults with intellectual disabilities. They are able to continue this mission through the generosity of the business community. As such, they are seeking your support to continue their mission to provide our athletes with opportunities to demonstrate courage through physical fitness and competitions, and to experience the joy that great accomplishments bring to them and their community.
Special Olympics Texas hosts several fundraising events throughout the year and the Greater Fort Worth Area 11 is home to Steaks & Stetsons. This year we are honored to have Police Chief Doug Reim of Highland Village serve as this 9th Annual Steaks & Stetsons Chair and State Representative Tan Parker as our Honorary Chair. Some other significant people moving this event to the next level are our two Co-chairs–Chief Russ Kerbow (Lewisville PD); and Chief Andy Kancel (Flower Mound PD) and countless others behind the scene! The spectacular Circle R event will be from 6 p.m. until midnight and is featuring the great country music singer and songwriter Charlie Robison. The boot scootin' evening includes a steak dinner, casino games, a live and silent auction, entertainment and dancing. In the accompanying video Chief Reim talks about the event and explains what the community can do to help.
They are seeking fun and creative items that will capture their guests' attention. They'd like to request an auction item of your choosing. Your donation to Steaks & Stetsons is a tremendous community service to Special Olympics Texas that will help them reach their goal and further employ their mission.  The services, products, or gift certificates from your business not only help fund our athletes, but presents an excellent marketing opportunity for you.
The organizers of the event would like to thank you for your consideration of this request.  If you have any questions, would like information on sponsorship opportunities, or attending Steaks & Stetsons, please call Development Director Alex Thieroff's office at 817-332-3433 or contact him by email at [email protected]. You can also contact Chief Doug Reim at: [email protected]. For more info, please check the website: www.sotx.org/news-events/calendar/area11/steaks-and-stetsons.html

ob Weir is a former NYPD officer, long-time Flower Mound resident and former local newspaper editor.