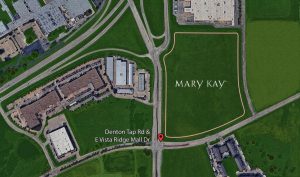 Global cosmetics company Mary Kay Inc. will build its $100 million manufacturing and research and development facility on a 26.2 acre plot at the northeast corner of Denton Tap Road and Vista Ridge Mall Drive in Lewisville.
The beauty company is expected to break ground on the approximately 470,000 square-foot building this September with a projected completion date in the first quarter of 2018.
As Mary Kay approaches the status of a top five beauty brand globally, company leaders expect the new facility will support Mary Kay's future needs in producing high quality skin care and color cosmetics for its more than 3.5 million independent sales force members worldwide.
Jacobs Engineering will provide the building design and Beck Construction will serve as the general contractor.
"This state-of-the-art facility is being specifically designed and built to meet not only today's, but tomorrow's, challenges to ensure the future of Mary Kay in an ever-growing and changing global marketplace. I am extremely proud of our commitment to Texas and to remain competitive with 'Made in America,'" said Thomas Cho, Chief Supply Chain Officer for Mary Kay Inc. "We are very excited about our innovative vision for Mary Kay's new U.S.-based global manufacturing and research and development facility."
Mary Kay Inc. invests millions of dollars in research and development and conducts more than 500,000 tests each year to ensure their products meet the highest standards of quality, safety and performance.
The iconic beauty company's current global manufacturing and R&D facility opened on Regal Row in Dallas in 1969. Today, the 420,000 square feet facility employs more than 500 employees and produces up to 1.1 million products per day, of which 57 percent are exported to Mary Kay Inc.'s international markets.
The Lewisville City Council recently approved a reinvestment zone and property tax breaks for the new Mary Kay campus.