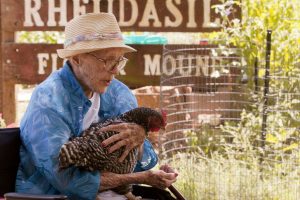 Her eyesight is such that she can no longer read and she strains somewhat to hear, but there's no denying the wit, wisdom and feistiness is still in full gear for 103-year-old Oleta Faye Turner.
Known affectionately as Aunt Faye to friends and family, she has been living with nephew and niece Mark and Penny Glover on their historic Flower Mound homestead on Red Oak Lane for the past 18-months. The property originally belonged to Penny's father, Bob Rheudasil, Flower Mound's first mayor.
"They're some of my favorite people," said Turner in her pronounced East Texas twang about her hosts. "I love them both. They've been so good to me."
Born in Winnsboro, about halfway between DFW and the Louisiana border, Turner later lived in Gladebranch.
"That's the only part of the state that counts," she declared. "I do like it here, but I loved it there."
Turner was the fourth of seven children born to Larkin and Pearl Stroman Glover. One of her siblings was Bill Glover, Mark's father who died earlier this year at age 89.
Her father owned a saw mill and moved the family around to saw timber stands.
She married Clyde Turner at age 16 and they had two children– daughter Joan Thorpe, now age 84 and living in Tyler and son Tommy, 83, who resides in Austin. She has five grandchildren, five great-grandchildren and four great-great grandchildren who live in Kansas, Colorado, Arizona and elsewhere.
During World War II, Turner exchanged using her sewing machine to operating a flange machine for North American Aviation in Dallas as one of the company's first women employees. She later worked nine years at Titches Department Store and 20 years as an insurance claims supervisor. She was a part-timer at Foley's Department store until 1989 and then moved back to Winnsboro in 1995 following Clyde's death.
Naturally a big fan of country music and old movies like "Gone with the Wind"– and westerns– Turner was very active in the Baptist church, as well as organizations like Western Star and the Red Hatters. She volunteered in the cafeteria and switchboard at Winnsboro Presbyterian Hospital until she was 95.
While in the Metroplex, she spent many hours as one of the first women volunteers at the Dallas Arboretum. She was a member of the Bells and Blossom Garden Club and a 20-year member of the East Dallas Garden Forum.
Turner lived independently in her Winnsboro home with a nice garden and many friends. Then a fall and ensuing rehabilitation made her realize it was time to be with someone else; hence, the eventual move with the Glovers.
"She's brought a lot of laughter to this house," Penny said.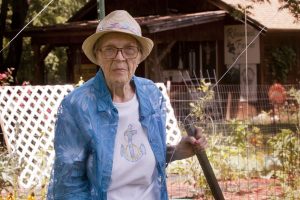 Since moving to Flower Mound, she's had her first tooth pulled, but has been deemed too healthy for home care. Neighbor Valerie Richards does help a couple days a week.
"There's never been a day where she says she feels bad," Mark added.
Though she gets out a bit to visit doctors, have her hair cut, enjoy some of the area's restaurants and occasionally visit a nearby casino– or attend a concert– she spends most of her time at home.
"I sit in the house and moan and groan," she said. Of course, when you live in a place with two dogs, five turkeys, 20 chickens and 120,000 honey bees, plus an expansive garden spread out over three acres, being a homebody isn't that bad.
"Penny does see that I get out some," she said of her niece, shortly after sitting for a photo holding– and singing to– a chicken; ironically called Henny Penny. "She's a good caretaker. If you know anybody who needs a home, I recommend Penny."
Since 2001, Aunt Faye and her niece have been members of the Texas Honeys, six women who travel annually to Jackson, Miss., for the Sweet Potato Queen Parade. The group was inspired by author Jill Conner Browne, who's written several books on the women's organization.
To celebrate her 100th birthday in 2013, the parade honored Turner as Grand Marshal. This year the Honeys went to the premiere of a Sweet Potato Honeys musical in Houston.
"They love Aunt Faye," Penny said. "Everyone in Jackson calls her Aunt Faye."
In her younger days, Turner traveled far beyond Texas and Mississippi, including a visit to Cuba one week before Fidel Castro assumed power. She's visited every state but Alaska, plus England, Scotland, Germany, Switzerland, France, Italy, Spain, Morocco, Canada and Mexico.
On a framed photo of a pensive Aunt Faye, Penny Glover has inscribed a number of the profound things Aunt Faye has said through the years. Some are too "spicy" for a "G-rated" publication, but others include: "Never Stand When You Can Sit;" "There's No Demand for Good Women;" "How Do You Sleep – With My Eyes Closed;" "I'll Grow Old Later;" "It's Easier to Get into Trouble Than Stay Out of Trouble;" "You Don't Quit Playing Because You Grow Old, You Grow Old Because You Quit Playing;" and, "I'm So Surprised I'm So Smart with Such a Little Head."
 Turner's secret to her longevity is a combination of three things; good, clean living, which to her means no smoking or drinking ("People are just as good looking and friendly without all that. You can think of things to say without all that backing you up"); drinking 10-12 cups of coffee a day (If it weren't for coffee, I wouldn't be here today"); and, enjoying life to its fullest ("Life means more when you have fun.")