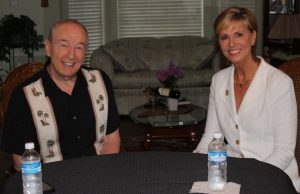 It was my distinct honor and pleasure to interview Dr. Carine Feyten, the Chancellor and President of Texas Woman's University (TWU), who oversees a university with an annual operating budget that exceeds $256 million, serves approximately 15,000 students on campuses in Denton, Dallas and Houston, and has an annual economic impact in the North Texas region of more than $721 million. In July of 2014, Dr. Feyten became the eleventh president and second chancellor of TWU, the nation's largest university primarily for women.
In that short span of time Dr. Feyten has already had a remarkable impact on the university. Achievements under her leadership include launching new degree programs in informatics and healthcare informatics; expanding degree offerings online and at satellite locations; enhancing community outreach; improving university infrastructure with plans for a new student union and parking garage in Denton; developing relationships with the business community and state legislature; building the university's leadership team and enriching university communication via the new e-newsletter.
A native of Belgium, Dr. Feyten holds a Ph.D. in Interdisciplinary Education, Second Language Acquisition from the University of South Florida, and an M.A. in English, Dutch, Education and a B.A. in Germanic Philology, both from the Université Catholique de Louvain in Belgium. An internationally recognized consultant, speaker and scholar in the field of language learning, teaching methodologies and the integration of technology in education, Dr. Feyten has authored or co-authored more than 100 journal articles, conference papers and book chapters. She previously served as dean of the College of Education, Health and Society at Miami University in Oxford, Ohio.
In "Greetings from the Chancellor" on the TWU website (www.twu.edu/chancellor), Dr. Feyten wrote: "Bienvenidos, bienvenue, welkom, welcome… to Texas Woman's University, the nation's largest university primarily for women. At TWU, faculty are known, not only for their excellence in scholarship, teaching, and service, but for the "care factor" that shows up in all that they do. I know that students who are inspired by faculty are more likely to succeed in life. The emphasis at TWU on student life and academic support also bolsters this idea of care. Through transcendent experiences, I believe what we do at the university should cultivate students so they can, in the immortal words of one of my favorite fictional characters, "live long and prosper!"
TWU offers degree programs in the liberal arts, nursing, health sciences, the sciences, business and education. Its campuses in Denton, Dallas and Houston are joined by an e-learning campus offering innovative online degree programs in business, education and general studies.  TWU serves the citizens of Texas in many ways, including:
Graduating more new health care professionals than any other university in Texas
Easing the teacher shortage by placing highly qualified professionals in the classroom
Offering a liberal arts-based curriculum that prepares students for success in a global society
Conducting research that impacts the prevention and treatment of childhood obesity, osteoporosis, stroke and diabetes.
In addition, Dr. Feyten wants area residents to know, "Between Flower Mound High and Marcus High we have over 40 new students coming this year. Over 17 of our faculty and 36 staff members live in Flower Mound. With the growth in the area and at TWU, I only see a stronger tie with the Flower Mound area in the years ahead."
TWU Mission Statement
Texas Woman's University builds on its long tradition as a public institution primarily for women by educating a diverse community of students to lead personally and professionally fulfilling lives.  TWU prepares women and men for leadership and service through high quality undergraduate, graduate and professional programs on campus and at a distance.  A TWU education ignites potential, purpose and a pioneering spirit.
Bob Weir is a former NYPD officer, long-time Flower Mound resident and former local newspaper editor.