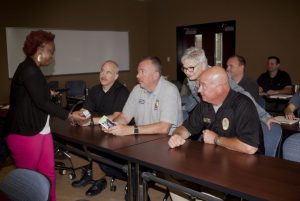 It all started during a chat over coffee at an Argyle Chamber of Commerce breakfast last fall.
That's when Highland Village resident Michele K. Steigleder, Ph.D., a licensed clinical psychologist and co-owner of Forget Me Not Dementia Services, asked Highland Village Police Chief Doug Reim: "How prepared is our police department in knowing how to respond to calls of people suffering from Alzheimer's and other dementias?" she recently recalled.
"He said to me 'it's something we want to become better prepared at doing, because of the aging population, even in our own community,' " she added.
That's all it took for Steigleder to go into action.
She contacted the Dallas Chapter of the Alzheimer's Association, which already had established First Responder Training and Medic Alert Safe Return programs. Reim appointed his training coordinator, police Lt. Bobby Doyle, to coordinate the program with Tanesha Tyler-Carr, the chapter's helpline specialist and safety services program lead.
Tyler-Carr conducted the hour-long training sessions May 9 and 16, as part of the department's annual in-service training. Over the course of the two sessions, 29 members of the Highland Village Police Department, plus Highland Village Assistant Fire Chief Brad Goudie, were trained.
"The big thing I saw was a lot of interest on the parts of the officers," Doyle said. "Some of the subjects we normally deal with are really 'dry;' like when we start talking about penal code stuff or criminal procedures where they say: 'we've heard this before.' When they got to the Alzheimer's stuff– and especially Ms. Carr's training and videos and all– they were like: 'wait a minute, how would we deal with that?' So they got some really good tips and information."
Doyle said mental health had been discussed during previous in-service trainings, but not to the extent of this program; which provided several key points, especially on how to approach the people.
"Don't sneak up on people," he said. "Be open. Be calm. Don't talk in a loud voice, more soothing. Look for the clues that maybe something's wrong, where maybe they don't have the answer to a rather simple question; to develop a thought of what's really going on. Is there something wrong there and how to take action with that."
Topics addressed included: how does an officer approach a person wandering around and who is possibly lost; what about when someone with the dementia is accused of shoplifting; how do you approach them to not scare them; how must they be approached differently than those without the disease not to escalate fear.
The other big takeaway, Doyle said, was the existence of a national ID bracelet program sponsored by the Alzheimer's Association. Similar to medical alert bracelets, they include a toll-free hot line number to the Alzheimer's Association which can ultimately put the people back in touch with their families.
"We have another tool in our collection to positively impact the community," Doyle said. "It's information we can pass on to our citizens and our officers who do a lot of community service with people in their homes."
With a growing number of people being affected, it's a great thing for any law enforcement or other similar agency to learn about dementia. Plus it's not just elderly people affected by these diseases. People in their 40's and 50's have been diagnosed as well.
"We have some people with early-onset," Doyle said. "It's important for us to know our community and what's going on in our community. It put a new light on things for us. The big thing we learned is that, even if the person isn't a member of the Alzheimer's Association, we can still call them 24/7 and they will assist us."
The objective is to bring the people safely back to their families and if required, arrange any help they might need.
"Everyone has a mom and dad and most have a grandma and grandpa," Doyle said. "It gave us insight into our own families. It puts in the back of our mind that, God forbid if we have to use any of these services, it gives us a little more information on how to handle it."
Highland Village is believed to be the only community in southern Denton County to have its entire police force receive the training.
"It's something where if you can expose every officer, it's just another tool or resource that we can use," Doyle said.